Today, Neil Agius and 21 crew will embark on a 100KM swim from Sicily to Malta in a gruelling swim taking an estimated 33 hours.
Three boats will accompany Neil on his Sicily-Malta swim, which is all for his #WaveOfChange campaign.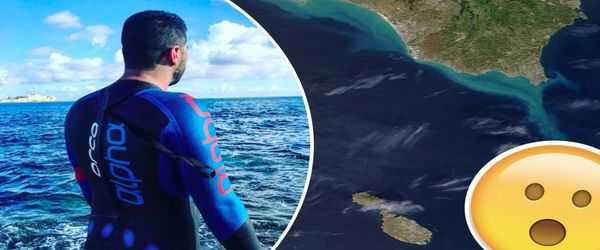 If Neil manages to swim the distance, he will join the ranks of Nicky Farrugia who currently holds the record for being the first man to swim from Sicily to Gozo in 1985. According the Maritime Swimming Federation the swim from Malta to Sicily will be the 6th longest swim in its category.
The #WaveOfChange anti-plastic campaign started out as a challenge between friends to pick up three pieces of litter. Now, it's evolved into an impressive slew of record-breaking feats, helping promote reduction of plastic usages, responsible consumption of seafood and improving coastal health.
Neil Agius comments,
"The #WaveOfChange campaign started out as a challenge between friends to pick up three pieces of litter. But the initiative soon snowballed into a national campaign that has since been backed several businesses, activists, politicians and even members of the public. We are grateful to our sponsors and all the support we have received to ensure this year's swim goes ahead."
Mathieu Salomon, Technical Director at Camper & Nicholsons Marinas comments,
"I am an avid open-water swimmer myself and have been pleased to see the success of the Wave of Change campaign since being friends with Neil. We should all be much more mindful in treating the environment with more care, and this initiative shines a light on the magnificent waters around Grand Harbour Marina and our Mediterranean gem. I wish Neil the best of luck, and many congratulations in raising the much-needed funds and awareness towards the cleanliness of our oceans."
This is certainly not a first challenge for Neil. Each year another swimming event is created to further promote cleanliness of the oceans and the promotion of the campaign. Last year, the challenge was to circle Gozo and in 2018 Neil Agius, Gilbert Bartolo and Richard Zerafa, took on the daring challenge of swimming Malta's borders within 24 hours. Neil was the only swimmer to successfully make it all the way around, swimming 70km in just under 22 hours.
How can you be part of the Challenge?
Instead of money, donate your time and pick up three pieces of litter wherever you may be. Take a picture and share on your social media channels using the #WaveOfChange. Then challenge 3 friends to do the same.
To book a berth at Grand Harbour Marina, Malta, click here.