There is generally an overuse of the words 'hidden gem' but in this case the southern Caribbean island of Grenada truly is an unspoilt, unique, authentic gem of an island and could be the ideal charter base for exploring the southern Caribbean.
Overlooking the historic capital St. Georges and designed to reflect the traditional Creole architecture, Camper & Nicholson's Port Louis Marina has transformed Grenada's yachting facilities; is one of the best Caribbean marinas and acts as the doorway to explore this fantastic island and the beauty of the nearby Grenadines.
Situated on the southern boundary of the hurricane belt, it is a proving a popular destination for discerning owners' yachts and superyachts up to 90M LOA for short term or long term berths.
With some of the best sailing anywhere in the Caribbean, the Grenadines can be explored in an easy 7 to 10 days, making for a truly memorable adventure whilst allowing time to fully appreciate what sailing and exploring the Grenadines has to offer.
Sample itinerary
→ Grenada: 'Spice Island' of natural beauty
→ Bequia: Bustling bohemian paradise
→ Mustique: Family friendly laid-back island
→ Canouan: Ultimate luxury & pampering
→ Tobago Cays: Marine Conservation Area, Wildlife Reserve & National Park
→ Union Island: Hugely popular for kite surfing
→ Petit Saint Vincent: Optimum relaxation & stunning tropical sandy beaches
→ Palm Island: Tiny private island
→ Grenada
Typically, a 10-day charter could allow you further time to extend the charter experience to include a few days in St. Lucia and explore on land with a hike to see the views from the famous Pitons.
Camper & Nicholsons Port Louis Marina is a world-class marina destination complete with a full-time marina team and provides luxury facilities on-site, it is an ideal base for charters to start and finish.  Key services include:
Regular international fight connections
Fully-equipped boatyard nearby
Fuel bunkering
Captainerie is staffed 7-days a week by great staff
Provisioning services and chandlery
Customs and Immigration based on the Marina
160 berths up to 90m / 330ft Max LOA
Bars, restaurants & entertainment within the marina, including 'The Victory Bar' – beside the swimming pool offering excellent full service restaurant
Black and grey water disposal
Free Wifi
24-Hour manned security
Laundry – a full service laundry is on-site close to the security office at the village entrance.
An on-site bakery and supermarket across the lagoon (5 minutes' walk or a 1 minute dinghy ride.)
On-site washrooms
Port Louis Marina Taxi Association – offering airport / hotel transfers and island tours.
Glynn Thomas General Manager at Port Louis Marina comments, "Grenada is totally unspoilt by mass tourism and development. Friendly people, fiercely proud of their island and culture, are excited to share it. Port Louis Marina, in the heart of the colour and bustle of St George's, offers easy access to a wide variety of experiences. We have the best international superyacht facilities on the island and we look forward to welcoming Captains, Crew and your guests to an unforgettable charter adventure with us!"
Further information about why Port Louis Marina makes for an ideal Caribbean charter base;
Grenada has a tropical climate which is warm all year round with temperatures between 72°F and 85ºF. Temperatures are cooler in the dry season, which lasts from December to May, when they are cooled by the trade winds. The rainy season is hot and humid.
Your guests will revel in the unspoiled lands of the Windward Islands and although sailing the Grenadines is slightly more challenging than those found in the British Virgin Islands, Grenada still offers short passages of beautiful scenery.
Grenada has the closest international airport to the cruising grounds of the Grenadines, making Port Louis Marina one of the most convenient marinas in the Caribbean.
Fly to Maurice Bishop International Airport (GND), Grenada, from New York (4 hours 10 minutes) and Atlanta (4 hours 25 minutes) with Delta and JetBlue. Flights from London Gatwick taking 10 hours flying twice a week with British Airways or Virgin Atlantic.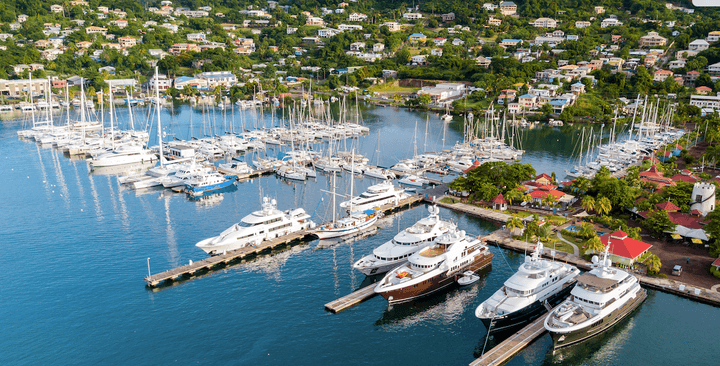 Customs and Immigration information for cruising Grenada and the Grenadines:
In line with local regulations, yachts arriving from outside Grenada or Carriacou will need to clear in with Customs and Immigration at a port of entry. Grenada has several local ports of entry with the main one being at Port Louis Marina where our marina team are delighted to assist.
Our Top Tip:
Visit Eco Dive the islands best diving shop located onsite at Port Louis Marina, and prepare to be truly inspired to visit all the dive sites in Grenada. Grenada is a diver's paradise and has some of the very best reef and wreck dives in the Eastern Caribbean. With over 30 sites, both novice and experienced divers have a wide variety of exciting underwater excursions to choose from which are all just short distances from the shore – a unique dive experience to Grenada. Some of the best diving spots include the world's first Underwater Sculpture Park, the Bianca C Ship Wreck, and Flamingo Bay. Grenada's year-round tropical climate makes a perfect dive destination with water temperatures generally between 75F to 85F.
Click here to book a berth this charter season.
Click here to see the latest feature from Boat International about the island of Grenada.