Announced at the Çeşme Marina Season Opening Party, Turkey's Çeşme Marina is working in cooperation with the Akua Group and Dokuz Eylül University Institute of Marine Sciences and Technology Department of Marine Technology to help clean seawater through the use of mussels.
Ceşme Marina are increasing the number of mussels living inside the marina's waters in an attempt to cut down on aquatic pollution and improve the quality of the water. Mussels are known to filter the water around them when searching for phytoplanktons to eat. Research shows that one mussel can filter 150 litres water per day depending on its type and environmental conditions.
During the first phase of the project, Çeşme Marina  secured in strategic locations around the marina, a total of 80 sacks of Mediterranean mussels. Professor Doctor Gökdeniz Neşer and his team from Dokuz Eylül University will check the ratio of heavy metals inside the mussels regularly and will publish an academic report after one year.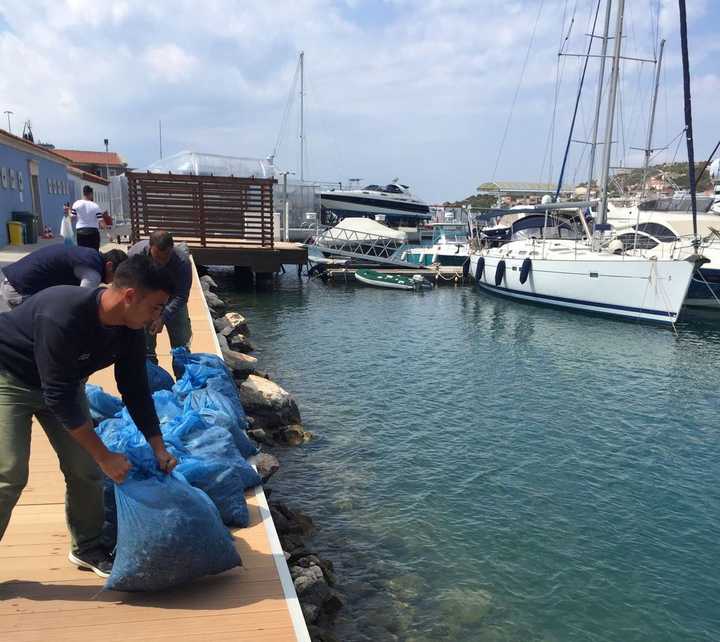 Can Akaltan CMM, General Manager of Çeşme Marina, says: "We are excited to conduct this project and aim to become a model for Turkish and European marina companies. If we can succeed we will recommend this to all marinas. We would like to thank Professor Doctor Gökdeniz Neşer and Cenk Yurttaş for their support and cooperation."
Akaltan continues, "At Çeşme Marina and working with local partners, we continue to pioneer ecological clean marina solutions with the hope to develop 'greener marinas' for the future."
Along with The Mussel Project, Çeşme Marina continues to pioneer great environmental welfare in the marina with  its annual Olive Tree Festival. This eco-friendly family-orientated festival is an opportunity for the olives from Çeşme Marina's olive trees to be harvested by staff and their families, to create pure and organic olive oil which is sensitively packaged and offered as gifts. The olive oil receives international acclaim with Çeşme Marina having recently been awarded the Green Apple Award, presented at the Houses of Parliament, London in recognition of their sterling efforts to environmental best practice.
Çeşme Marina, a joint investment of Camper & Nicholsons Marinas and IC Holding, is located in the Çeşme region of Izmir and has a berth capacity of 400 in the marina and 100 on land.
To book a berth, click here.