Kicking off the Caribbean High Season be sure not to miss the amazing events and activity taking place. Port Louis Marina is perfectly located for you to be a part of the Caribbean season of activity.
Enjoy all of what the Spice Island has to offer, and enjoy the warm weather, rum cocktails and idyllic beaches to which you can cruise. Use Port Louis Marina as your base, with 24-hour security and concierge and reservations.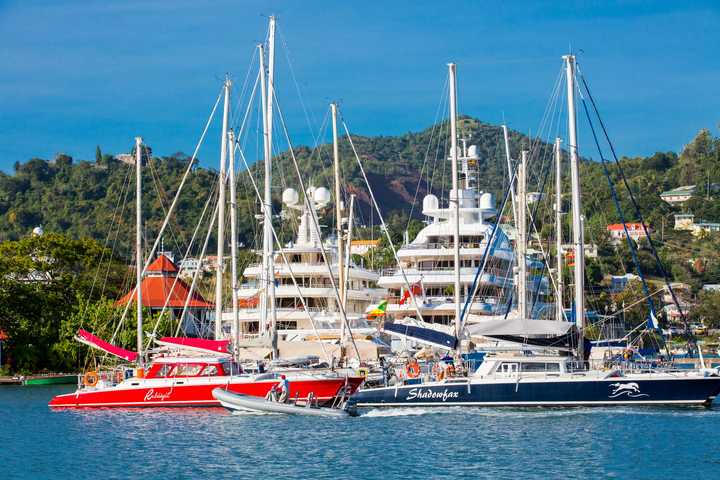 RORC – Starting in the 24th November, from Lanzarote, this 3,000 mile match across the Atlantic, is a race not to be missed. All race-goers receive a winning welcome from the marina steam at Port Louis Marina, with a ceremony to announce the winner thereafter.
New Years Eve Party – located at Port Louis Marina the Victory Bar New Year's Eve Party is never to be missed. Enjoy an evening of dinner, dancing and drinks, along with live music and friends to welcome in the new year. A highlight in our marina calendar – it is a sell out!
The Bill Fish Tournament celebrating 50 years – (January 21st – 26th 2019), Grenada's water is home to an abundance of game fish. The idea of a tournament held annually to bring anglers together in competition and camaraderie was pioneered by the founders Jim Needham, Louis Rostant and Martin Mathias in 1964. Built on a love of game fishing, the competition does have a key focus towards sustainability, with many of the fish caught, being released back in to the sea with greater rewards given to anglers of this practice.
Grenada Sailing Week – (January 28th – February 2nd 2019)  4 days of sailing and 6 nights of parties, the Grenada Sailing Week is a must-do this season in the Caribbean. We invite you to 'spice it up' from the 27th January – 1st February, for great sailing and a friendly atmosphere. The first GSW event took place in Jan/Feb 2013 and since then it has become firmly established. The number of participants has increased, courses have been fine tuned for more challenging racing, classes have been added to accommodate a larger range of yachts, and a variety of venues have been selected to showcase the island of Grenada. Besides the Board members listed below, the regatta has a team of committed volunteers and a dedicated organising committee. Port Louis Marina is one of the host locations.
Grenada Sailing Festival – (February 2nd – 3rd 2019) showcase of the Island's great sailing traditions. The Festival is focused on a traditional local Work Boat Regatta, where brightly painted wooden boats with traditional bamboo rigging race off Grenada's famous Grand Anse Beach. The boats are based on the original local design of fishing boat
Over the years the Grenada Sailing Festival has become well known for it's unique charm of excellent sailing conditions, well run but laid back racing, and with the extra of bonus of experiencing the excitement of traditional local racing during one of the biggest Beach Parties around.
Oyster World Rally (February 20th – March 10th 2019)– organised exclusively for owners of Oyster yachts, 29 yachts are cruising the 27,000-mile circumnavigation extended from 15-27 months and compromising four connecting stages, participants can expect to enjoy a more relaxed exploration of the Pacific and Asian islands, while also discovering more of New Zealand and Australia. Port Louis Marina will be the first Caribbean port of call on the passage home before Osyter World Rally arrives at its final destination, Antigua.
To book a berth, and be apart of the fun and exciting events this season, click here.