The Royal Malta Yacht Club's race sailing calendar officially opened last weekend, with the Sport Boat Class - Grand Harbour Marina - Act 1
The Sport Boat Class was recently set up by a group of sailing enthusiasts who have eyed a void in the sailing circuit. Boats measuring between 20ft to 30ft are eligible to form part of the Sport Boats category.
The season opener was sponsored by Camper & Nicholsons Grand Harbour Marina and saw a total of six participating boats; SY Iggle Piggle, Chantebreeze, Piccola Bella, Mother Tereza, Emerald, and Fortune Cookie. Although initial plans were to have races spread over Saturday and Sunday, the inclement weather conditions forecasted for Sunday saw the Class make the most of Saturday's favourable conditions and the race committee managed to conclude five races on the day.
The event welcomed three sport boats representing the Grand Harbour Marina and their crews included twelve superyacht captains and their crews. Six pontoon berth holders also sailed on a course to Munxar.
Outright winner of the weekend was Paul Borg Cardona's 'Farr Out'. Borg Cardona and his crew had five out of five wins on corrected time, though they battled some serious competition from Robert Ciantar's 'Seriously Bonkers' crew and Adrian Gauci Borda's 'Maltese Musketeers' who gave a consistent performance throughout to claim second and third place respectively.
"The weekend gave us a fantastic set of challenging races for Act 1 of the Sport Boat Series! It was great seeing new faces on the water too. Many thanks to the RMYC and Grand Harbour Marina for supporting the Sports Boat Class event", enthused Paul Borg Cardona.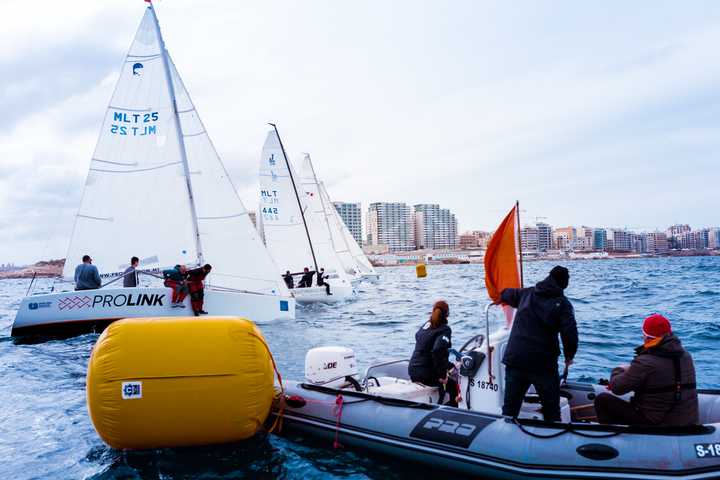 "The aim of the Sport Boat Class is to provide opportunities for these owners to meet up and race together. Last year we had two very well attended initial test events, and this year's first event was another success with six boats starting off the weekend races", commented Robert Ciantar, one of the Sport Boat Class Officials. "This year we already have a full calendar scheduled, with a weekend racing event planned practically every month. We hope that the enthusiasm with which crews were left with after this event, will spill over onto other crews as well and we will see more boats joining our races. We take this opportunity to thank the event Race Committee, volunteers, the RMYC for their logistical support and of course The Grand Harbour Marina for sponsoring and hosting this event".
The Grand Harbour Marina treated crews and friends to beers and champagne, compliments of Bradbury Yacht Concierge and No12 Fine Wines. Local band BNBees livened up the proceedings with a selection of popular and classic tunes to close off a successful weekend in style.
The Sport Boat Class' next event is scheduled to take place on the weekend of the 24th February 2018. More information can be found on www.rmyc.org. or on the Royal Malta Yacht Club and Sport Boat Class – Malta's Facebook pages.
Sport Boat Class – Grand Harbour Marina – Act 1 RESULTS
1st Place – Farr Out (Paul Borg Cardona, Nicky Vassallo, Isaac Saliba, Alan Tabone Ferrante)
2nd Place – Seriously Bonkers (Robert Ciantar, Jan Rossi, Duncan Camilleri, Ray Gerada)
3rd Place – Maltese Musketeers (Adrian Gauci Borda, Nicolai Portelli, Pierre Mifsud, Simon Posjak)
To book a marina berth at Grand Harbour Marina, or be a part of the race series contact Grand Harbour Marina office through our book a berth form