Find your place at Camper & Nicholsons Port Louis Marina this Caribbean season, and enjoy the tranquil marina setting overlooking the colourful waterfront of the Carenage, with 160 berths for yachts up to 300 feet.
For an island so small, Grenada offers everything you could need for a summer or winter season with your yacht. Port Louis Marina is located a short distance from the capital 'St. George's' which is quite possibly one of the prettiest places in the Caribbean; a jumble of brightly coloured buildings surrounded by a rise of steep green hillsides, up in to the islands mountainous and lush interior, with trails through the rainforest and impressive waterfalls to discover.
Attractions:
Must see highlights in Grenada include a steep climb to Fort George, a dilapidated complex built by French and British in colonial times that is now HQ for Grenada's police force, which offers superb views down the coast and back in to the town.
Grenada National Museum, with engaging exhibits ranging from Amerindian ceramics found on the island to photos, paintings and displays, including the Bianca C cruise ship which caught fire in 1961.
Grand Etang Lake, a large and scenic water-filled crater of an extinct volcano. Follow the start of the trail towards Mount Qua Qua, where there are expansive views over the lake and to the sea in the distance.
River Antoine Rum Distillery 
Dating from 1785, this distillery makes a fair claim to be the oldest, continuously operational rum factory in the Caribbean. Thirty-minute guided tours let you observe the whole of the fascinating, traditional, rum-making process. It starts with sugar cane fed by hand in to a crusher to extract the cane juice and ends with a drink so potent that the main brand is too flammable to be allowed to be taken on planes.
Belmont Estate 
The prime crop on this scenic, 300-year-old plantation estate in north-east Grenada is currently cocoa. Visitors are shown how the cocoa beans are fermented and dried, and those who have signed up for the Bean to Bar tour are then taken up the road to the Grenada Chocolate Company's quaint chocolate factory in the village of Hermitage, to see how the estate's cocoa beans are turned into chocolate.
Gouyave Nutmeg Processing Station 
This nutmeg processing station offers visitors engrossing 15-minute-long tours. You get to see the nutmegs drying on long racks and dexterous ladies sorting and shining the nutmegs.
Annandale Falls
This waterfall is Grenada's most easily accessible – you can drive virtually right to it – and therefore the most visited. It's a lovely spot, with the 10-metre high falls tumbling over rocks to a deep pool that is good for swimming. There are also paths leading off through a botanical garden. The falls are 20 minutes' drive north-east of St George's. Signposts are non-existent: get directions before heading out and go armed with a map.
Seven Sisters Falls
The path to these falls is signed off the road a short drive north east of the Grand Etang Forest Reserve. Access is US$2 (£1.50). The path initially leads through a pretty, cultivated landscape of nutmeg trees and dasheen, then descends in to the jungle to the falls. The largest waterfall is some 10 metres high, and has a big, inviting pool in which to swim at the bottom.
Restaurants & Shopping
St George's market, on the northern side of the town, is Grenada's main shopping attraction. In the covered hall, you can find a multitude of stalls selling spices – as pre-packaged selections or single bags of nutmegs, cloves etc – along with other local products such as nutmeg jams and syrups and vanilla essence. The market – at its liveliest on Saturday mornings – also has many colourful stalls piled high with exotic fruit and veg.
Don't miss…
House of Chocolate is a unique and beautiful hand crafted mini-museum portraying the history of chocolate. It features a small café with delicious chocolates made onsite; you can also enjoy other treats including ice cream, cakes and drinks. A small boutique carries a selection of all things made with cocoa in Grenada. Art Fabrik specialises in upmarket, hand-created batik (beach wraps, dresses, napkins).
At Port Louis Marina the Victory Bar & Gill, located in the marina offers a fusion of International, authentic Indian and Caribbean cuisine plus a great selection of local and international beers as well as a large wine cellar and a long list of cocktails plus a great selection of single malt whiskeys, premium rums and spirits.
In the Marina Village YOLO Sushi Bar, offers an elegant air-conditioned restaurant plus outside deck area. Their experienced Sushi Chefs will delight you with their culinary skills and delicious dishes, all complemented with a wide selection of wines and cocktails.
Aquarium Restaurant at the south of the island is a truly unusual setting overlooking the white sand Magazine Beach. Great place to enjoy the ocean breeze and amazing view over to the picturesque St. Georges. You can dine inside the main restaurant or enjoy La Sirena Beach Bar deck. Don't miss: Sunday BBQ with Live Music.
Umbrellas Beach Bar is one of the most popular spot on Grand Anse Beach, it is and upbeat, fun and relaxing restaurant.
Nightlife
Given that Grenada is a sleepy little Caribbean island, its nightlife is surprisingly lively…!
Dodgy Dock – is a lovely spot on a canvas covered deck protruding out over the waters of the bay.
Bananas – This is the liveliest nightspot in the south-west of Grenada. The multi-faceted place includes an outdoor area with a fast-food eatery (pizzas and burgers), a laid-back sports bar, and, on Fridays and Saturdays, an indoor nightclub with DJs and an admission charge (Friday is the big night).
Prickly Bay – Just beyond L'Anse aux Epines beach, includes an open-air bar and pizza restaurant, both of which are popular with ex-pats, tourists and yachties. On Fridays – the liveliest night, often attracting hundreds of visitors – a decent live band performs on the outdoor stage from around 6.30pm, and there's a DJ later. Bingo on Wednesdays, with big cash prizes, also attracts a large crowd. A quiz is held on Tuesday evenings, and films are screened on Sunday evenings.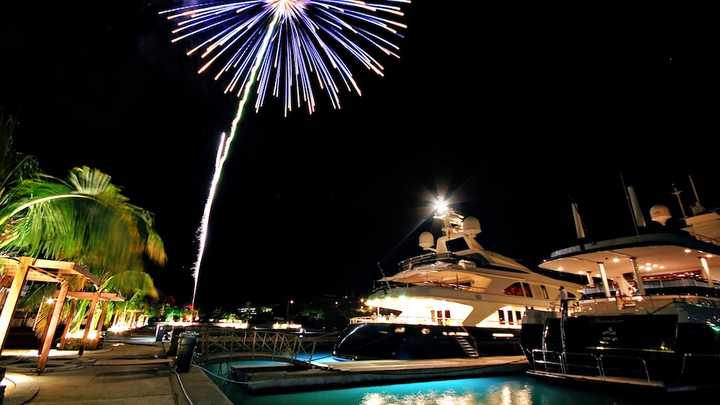 Beaches
Grenada is truly blessed with some of the loveliest sandy beaches in the Caribbean. Worth heading for a day trip, we have compiled a list of where we like best… in the hope you do too!
Grand Anse Beach – Closest to Port Louis Marina and with sensational views. Although a beach that everyone frequents to, the beach is big enough for you to find an uncrowded spot. Head towards the southern end, near to the Spice Island Beach Resort as its often quieter.
Morne Rouge Beach (or BBC) – located in one of the most sheltered spots in Grenada, this beach is positioned lose to a number of small hotels and villas on the hills encompassing the bay. Only in-the-know tourists visit this beach but can get busy with day trip boats from cruise liners. The water is tranquil; and calm and perfect for families with young children.
Magazine Beach – A large and wider beach than typically found in Grenada, the Aquarium Restaurant bookends the beach with the Grenadian by Rex Resorts. Weekdays, this beach is pretty quiet but with a busy BBQ at Aquairum every Sunday its often busiest at the weekends.
La Sagesse – With a strip of lofty palms perfectly shading the sand in front of the property, this beach is a long crescent of soft golden sand set back of a deep bay on Grenada south coast.
Bathway Beach – Part of the Levera National Park, Bathway Beach is a mile-long beach of windswept sands. On the Atlantic side of the island where frigate birds fly over the waves. If you visit, pop by and see the Levera Pond, which is part of the national park. Levera Pond is rich in birdlife, and Levera Beach is a beautiful tract of golden sand that acts as an important nesting spot for turtles.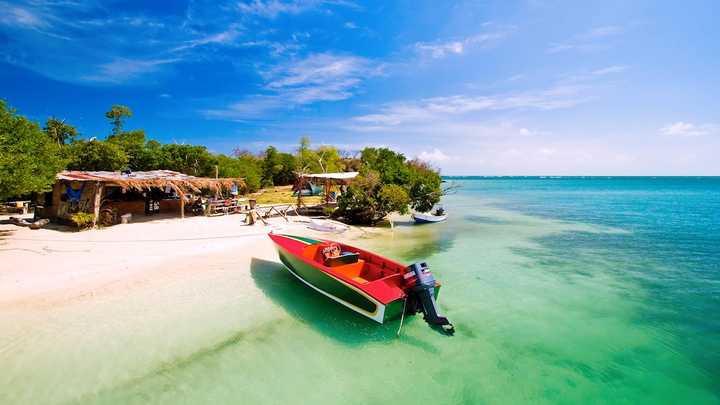 Diving
Grenada and its little sisters Carriacou and Petite Martinique offer some of the best diving in the region. Amazing shipwrecks, colourful reefs and exciting drifts create a diver's wonderland.
Most of the dive sites are concentrated around the south and west coasts. And perhaps the most famous site of them all is the Bianca C. This dive site features a 600-foot luxury liner that was sunk by an explosion in 1961. Today, the "Titanic of the Caribbean" lies at a depth of 165 feet (50 meters), but the top of the ship reaches to 75 feet (23 meters). The main deck sits between 90 and 125 feet (28 and 38 meters), meaning that it is reachable within advanced recreational dive limits. Tidal currents can make this dive a challenge, so it is best to follow the advice of a local divemaster.
In addition, there are lots of other wrecks that litter Grenada's seascape, both naturally lost and purposely-sunk. You could easily dive just wrecks on Grenada, but you would miss reefs, walls and the underwater sculpture parks that are prolific marine ecosystems. Drift past encrusted whip corals and an assortment of sponges and sea fans while watching schools of jack, rainbow runners and Creole wrasse.
In 2018 Grenada, often referred to as the 'Wreck Capital of the Caribbean,' has added 2 new vessels to its ever-expanding portfolio.
In March 2018 the MV Anina sank to her final resting place on a sandy bottom near to the famous Purple Rain reef. Successfully scuttled as an artificial reef, the wreck sank undamaged and came to rest on its starboard side at a depth of 30m (100ft).
The Tyrrel Bay patrol boat, donate by the US government, was sunk in September 2018 approximately one mile off Grand Anse Beach close to Boss Reef.
For beginners, the Molinere Underwater Sculpture Park represents perhaps the best opportunity in the Caribbean to practice your bubbles. Here artist Jason DeCaires has created more than 50 sculptures of locals and placed them underwater. The artwork is now becoming an artificial reef, and divers can marvel at the variety of corals that are already transforming the sculptures beyond recognition.
Events & Parties
Kicking of the Caribbean High Season be sure not to miss the amazing events and activity taking place at Port Louis Marina:
RORC – Starting in the 24th November, from Lanzarote, this 3,000 mile match across the Atlantic, is a race not to be missed. All race-goers receive a winning welcome from the marina steam at Port Louis Marina, with a ceremony to announce the winner thereafter. To book your berth during this time, click here.
New Years Eve Party – located at Port Louis Marina the Victory Bar New Year's Eve Party is never to be missed. Enjoy an evening of dinner, dancing and drinks, along with live music and friends to welcome in the new year. A highlight in our marina calendar. Click here to be in touch and book your tickets – it is a sell out!
The Bill Fish Tournament celebrating 50 years – (January 21st – 26th 2019), Grenada's water is home to an abundance of game fish. The idea of a tournament held annually to bring anglers together in competition and camaraderie was pioneered by the founders Jim Needham, Louis Rostant and Martin Mathias in 1964. Built on a love of game fishing, the competition does have a key focus towards sustainability, with many of the fish caught, being released back in to the sea with greater rewards given to anglers of this practice.
Grenada Sailing Week – (January 28th – February 2nd 2019)  4 days of sailing and 6 nights of parties, the Grenada Sailing Week is a must-do this season in the Caribbean. We invite you to 'spice it up' from the 27th January – 1st February, for great sailing and a friendly atmosphere. The first GSW event took place in Jan/Feb 2013 and since then it has become firmly established. The number of participants has increased, courses have been fine tuned for more challenging racing, classes have been added to accommodate a larger range of yachts, and a variety of venues have been selected to showcase the island of Grenada. Besides the Board members listed below, the regatta has a team of committed volunteers and a dedicated organising committee. Port Louis Marina is one of the host locations. To book a berth at Port Louis Marina, click here.
Grenada Sailing Festival – (February 2nd – 3rd 2019) showcase of the Island's great sailing traditions. The Festival is focused on a traditional local Work Boat Regatta, where brightly painted wooden boats with traditional bamboo rigging race off Grenada's famous Grand Anse Beach. The boats are based on the original local design of fishing boat
Over the years the Grenada Sailing Festival has become well known for it's unique charm of excellent sailing conditions, well run but laid back racing, and with the extra of bonus of experiencing the excitement of traditional local racing during one of the biggest Beach Parties around.
Oyster World Rally (February 20th – March 10th 2019)– organised exclusively for owners of Oyster yachts, 29 yachts are cruising the 27,000-mile circumnavigation extended from 15-27 months and compromising four connecting stages, participants can expect to enjoy a more relaxed exploration of the Pacific and Asian islands, while also discovering more of New Zealand and Australia. Port Louis Marina will be the first Caribbean port of call on the passage home before Osyter World Rally arrives at its final destination, Antigua.
Select Yachts Boat Show – The Grenada Charter Yacht Show is designed to be an educational and fun show for the yachting community, including, charter brokers, yacht managers, captains and crew and promote Grenada as a charter destination.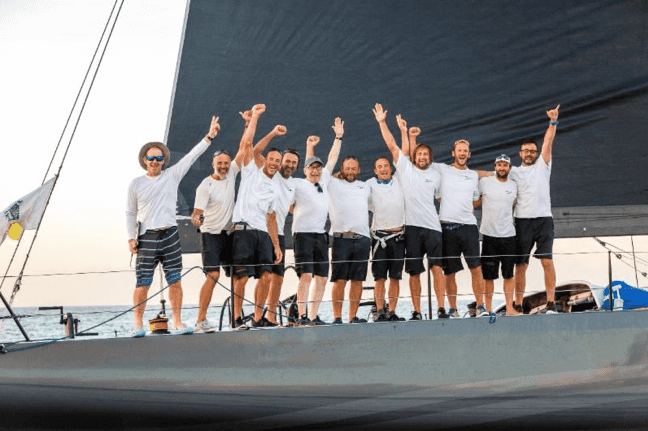 Port Louis Marina is perfectly located for you to be a part of the Caribbean season of activity. Enjoy all of what the Spice Island has to offer, and enjoy the warm weather, rum cocktails and idyllic beaches to which you can cruise. Use Port Louis Marina as your base, with 24-hour security and concierge and reservations. We look forward to welcoming you!
Click here to book a berth.