We're proud to announce that Can Akaltan, General Manager of IC Cesme Marina, Turkey, was recently awarded Marine Tourism M.Sc., following completing the certificate as Certified Marina Manager (CMM).
Can's achievements are down to his sheer determination and his six years' experience as a skipper on superyachts. This has given him a deeper understanding of the needs of clients, particularly captains and crew visiting the marina – a pretty unique market.
Rapid transitions
The transition from superyacht captain to Marina Manager has enabled him to set up home back in Turkey and start a family. In a recent interview, he admitted: "Being a superyacht captain is the best job in the world." Adding that he thoroughly enjoyed the adventure, excitement and exploration it gave him in his twenties but the need for more mental stimulation has led him to enjoy the present challenges in his position as General Manager at Cesme Marina.
He was only two months into his role of Marina Manager when he found himself having to assume the position of General Manager. Dan Hughes, Business Development Director of Camper & Nicholsons Marinas International (CNMI), jumped on a flight to Turkey to support him. Both perfectionists with a great deal in common, Dan was keen to share his knowledge with Can:
"Can has boundless energy and enthusiasm and is always receptive to new ideas. He has great attention to detail and is fastidiously on a mission to deliver the perfect marina experience to all his clients and guests, and he encourages his staff to do the same."
Likewise, Can was eager to learn from Dan, a CMM himself, having previously run marinas in the UK before joining Camper & Nicholsons Marinas Head Office in London in 2012. Dan now sits on the Management Team. Can says of Dan Hughes:
Dan's rich experience and know-how make him a great mentor… He's also a great team player. Even when we completed the 'Tough Mudder' competition together, he never left a man behind!
Several of the CNMI management team; such as Glynn Thomas General Manager of Port Louis Marina, Bill Green Technical Projects Director at CNMI and Andy Garland, Business Development Manager at CNMI were also part of Can's growing success. Can added: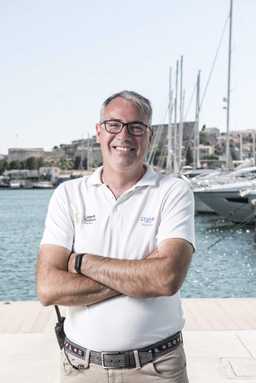 I learnt more from them in three days than three months alone in the marina.
Bora Ergezgin, Marina Manager
These days, in his more desk-bound role, Can spends less time walking the pontoons as he did in his previous position as Marina Manager. However, he always makes time for his clients, trying to keep a good balance.
Can recently completed a 100 page thesis on the Best Marina Management Practises; dealing with more efficient energy saving, waste, recycling and other environmental issues in the marina place.
His rapid career development and recent accomplishments were not immediately recognised, since a minimum of five years' work experience as a marina operator is required before receiving an award as a Marine Tourism M.Sc.
Now at the ripe old age of 34, his next challenge for 2017 is to learn Spanish, join the 1,500 swimming race while at the same strengthening his knowledge in finance for business purposes, spend time with his baby son and continue to drive perfection at Cesme Marina in Turkey. Where does he find the energy?
Everyone here at Camper & Nicholsons Marinas would like to congratulate Can and let him know how proud we all are of his achievements. #LifeGoesOn