Discover one of Turkey's gems.
The delightful coastal town of Çeşme sits on a promontory on the westernmost tip of Turkey. With its long seafront, hilltop castle overlooking a windswept bay and winding, busy market streets, Çeşme is the ideal base for exploring the surrounding peninsula. It is a popular destination with so much to offer by way of history, natural beauty, sport, activities and fun, health and beauty, tranquillity and vitality.
With its thermal springs and Aegean breezes strong enough to launch 1,000 windsurfers, the Ceşme Peninsula has long been a favourite of the Istanbul and Izmir cognoscenti. Wonderful beaches, a vibrant night life and immaculately preserved architecture only serve to add to the allure of this region.
'Çeşme' means 'fountain' and possibly draws reference from the numerous Ottoman fountains scattered across the city – and we'd like to provide you with this little fountain of inspiration.
Çeşme Marina
Çeşme Marina is a chic and vibrant port village set in a natural harbour and sensitively integrated within this incredibly picturesque maritime city, rich in history and atmosphere. The romantic ancient harbour is a wonderful place to visit, an ideal base for wintering your yacht and a perfect home port from which to explore the Aegean – with the idyllic isles of Chios and Lesbos just a short sail away.
You'll find yourself enchanted by the marina village's numerous elegant cafés and fine eateries, and also drawn to the marine fashion retail outlets and designer boutiques of the modern retail complex.
Sailing
There really is so much to discover within an easy sail from Çeşme Marina. For example, Chios (8NM) is a starkly beautiful island largely unspoilt by mass tourism despite having some of the finest beaches in the Aegean and some of the most fascinating medieval villages in the whole of Greece.
Oinousses
Just 8NM away, Oinousses (pronounced 'enoussis') is a small group of islands, known from ancient times for their famous wines, and renowned in modern times as the birthplace of prominent ship owners, earning Oinousses the title of 'richest islands in the world'. Crystal clear waters characterise these islands.
Alaçati
With its stone houses, narrow streets and rustic boutique hotels, Alaçati, just 15NM away from Çeşme, or 10 kilometres by road, is sleepy and unspoilt. With its outdoor cafés and restaurants, this charming 14th century port offers something special by way of a relaxed and sophisticated ambience.
Alaçati comes into its own in the evenings, when its cobbled streets buzz with locals and visitors. Many head for the waterfront bars and restaurants in the port and the yacht marina. It's also renowned for its windsurfing.
Çeşme Beaches and Bays
Arguably, Çeşme's greatest assets. You're sure to instantly fall in love with the turquoise waters, with thermal water bubbling from within, lapping golden sands, and the blue flags proudly flying along its 29 kilometres of stunningly beautiful shoreline.
Ilica Beach is widely considered to be Çeşme's finest but there are so many to choose from, including Dilaila Beach, Kafepi Beach Club, Before Sunset Beach and Babylon Aya Yorgi. An entire host of beaches, bays and coves await your discovery in the region.
Antiquities
The region retains so much culture and history. The village of Ildiri, 27 kilometres north of Çeşme – ancient names of Erythrai and Germiyan – bears evidence of settlements dating back to the Bronze Age. The city used to trade with Egypt, Cyprus and western countries.
Erythrai became independent in 334 BC when Alexander the Great conquered Anatolia. Excavations reveal the remnants of an amphitheatre and the Temple of Athena built in the 3rd century BC. Go back in time.
Çeşme Castle
Çeşme Castle is an extremely popular attraction. Although recorded to have been considerably extended and strengthened during the reign of Ottoman Sultan Bayezid II, sources differ as to their citation of the original builders; whether the Genoese or the Turks, following their early 15th century capture. Whatever the provenance of this magnificent structure, it is extremely well-preserved, commanding panoramic views – and is also home to an archaeological museum.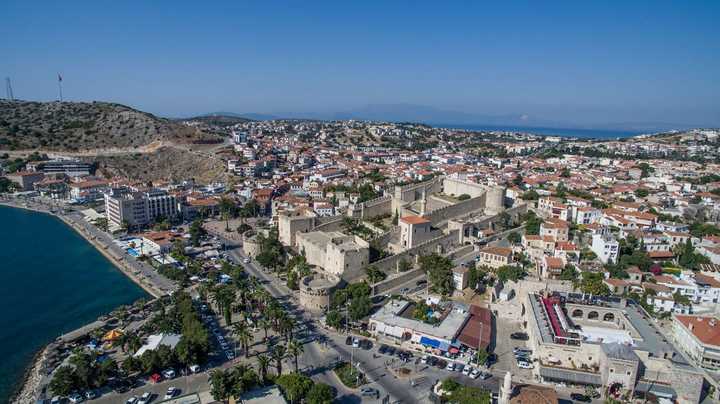 Sightseeing
Among Çeşme's many historic buildings you will discover a 16th century Caravanserai, built by Suleiman the Magnificent to mark the end of the Silk Road – now a hotel with a delightful courtyard – and the Church of Agios Haralambos, which has been lovingly restored as an art gallery.
Shopping
The Çeşme Marina shopping centre has everything to satisfy the needs of visitors with its accessory and design shops, boutiques, optical outlets, music and book shops, tech shops, chandlery, yacht sale and rental offices and a children's playground. There is also a yacht club and a supermarket. Further afield, you'll find all kinds of weird and wonderful shops in Çeşme's bustling market streets, selling everything from clothes and carpets to arts, crafts and jewellery. Explore.
For a full directory of clothing outlets in Çeşme Marina, check out the new Cesme Marina website.
Wining and Dining
It would be remiss of us to omit one of the city's greatest delights and attractions from our Top 10. Çeşme Marina comes alive at night when a vivacious, fun atmosphere flows throughout the restaurants, cafés and bars along the promenade. From traditional Turkish to modern international cuisine, you're sure to find plenty to satisfy your palate at Çeşme Marina. Here are a couple of suggestions to whet your appetite:
Ferdi Baba
Ferdi Baba Restaurant is one of the most favourite sea food restaurants in Cesme. The served fish have a taste of sea, salads and hors d'oeuvres are extremely delicious and fresh. The guests could raise their glasses while watching the sunset and rising of the moon.