IC Cesme Marina, a chic and vibrant port village set in a natural harbour is sensitively integrated within the traditional maritime city of picturesque Cesme, rich in history and atmosphere.
This romantic ancient harbour is a wonderful place to visit, an ideal base for berthing or wintering your yacht and a perfect home marina from which to cruise in Turkey or sail the Aegean – with the idyllic isles of Chios and Lesbos just a short sail away.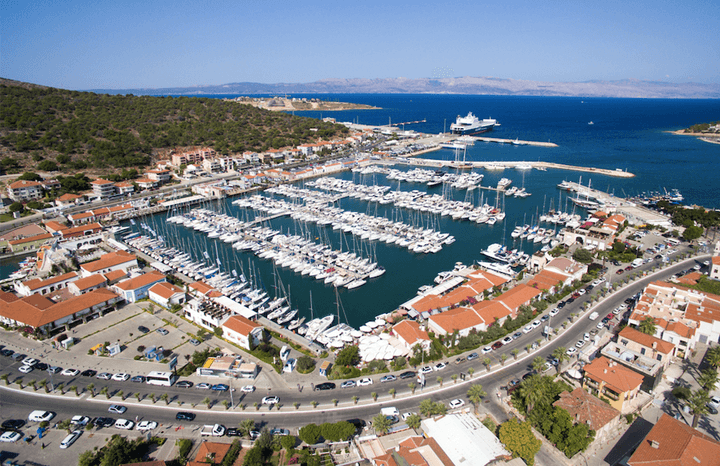 Can Akaltan CMM, General Manager comments:
"Cesme has been an important port through out the history of the Ottoman Navy due to its proximity to the transit routes and fresh water supplies. There are numerous beaches and picturesque bays in the peninsula. With its restaurants, shops and bars, Cesme Marina is a destination, which is alive not just for summer but the whole year. The marina has achieved bringing different kinds of people together in a nice and safe environment with high levels of service."
DAY 1: Cesme to Chios (15nm)
After leaving the Çeşme Marina with northerly winds you may need some tacks till Chios-harbour. You can pass safely the two small islands (the west with Lighthouse Fl. (5s) 42m 10M) on your way on all sides. Closer in the breakwaters of Chios-harbour with the highly visible beacons will be seen. In contrast, in southerly winds you can enjoy a down-wind sail directly to Chios.
If you want to stay only briefly for making clearance, you can moor alongside in the southern part of the harbour. The north is reserved for ferries and cruise-ships. The Port Authority (white building) is located in the northern part on the left of the ferry terminal. In the ferry terminal you will find Passport Police and Customs.
If you want a longer stay, you berth your boat in the southeast part of the port where a new pontoon for sailing yachts is suitable. To ensure a berthing place, please call ahead of time and book, as the summer season is busy.
DAY 2: Chios - Ounousai (9nm)
To Ounousai there are indeed only 9 nm to sail, but this would invite you to spend a bit time in the Ildir-Körfezi with many possibilities. Take care when rounding Cape Üc Burunlar because of underwater cliffs. Passage is possible, but being unfamiliar with this area you should go north of the cardinal N-Beacon.
Two miles further south there are some nice anchorages:
Dalyanköy: available small marina; mooring-lines; very good seafood restaurants and good shopping.
Immediately south of Dalyanköy, 2 anchor bays are suitable for swimming. Anchor in 3- 4 m on pure sandy bottom.
Four miles north of Dalyanköy lies the donkey island, Karaada. There are 3 bays in which you can anchor well protected with northerly winds. The island is inhabited by wild pigs and donkeys, which are usually seen in the middle bay.
To avoid a night in Chios port continues to the island of Ounousai with its beautiful and absolutely safe harbour Mandraki (from Dalyanköy 10 nm; from Karaada 7 nm). The port was expanded recently to a small marina. Go bows or stern to the quay. Nice taverns are located around the harbour.
Keep care to your chart-plotter. In some bays round Ounoussai it may show you wrong positions!
Day 3: Ounousai - Limnia (30nm)
From Ounousai you sail through the 1.5 nm wide Diavlos Spalmatori channel on the north coast of Chios about 15 nautical miles to NW and W. Here you have to sail close to the wind but then it changes to a S and SW course to Limnia harbour below the town of Volissos. The port is completely safe and impressively located below a Genoese castle.  The taverns at the port are good and cheap.
DAY 4: Limnia - bays in the south
After Limnia you have several options. 16 nm to the south, there are several bays, of which I find Trachilia Salaganas the best. Drop the anchor in 6-7 m on sand in crystal clear water free swinging.  Those who prefer to make a longer cruise, sail 10 nm further to Emporio, which is situated 3 nautical miles north of the southern headland of Chios. The concrete pier has only water depth of 1.40 m to 1.90 m.  Anchor in 4-5 m on sand. Good protection from northerly winds. Recommended Tavern at "Mary".
DAY 5/6: Direction Cesme Marina
Emporio only 15 nm, which you can sail without difficulties even in strong winds. Cesme is located approximately 4 nautical miles south of Üc Burunlar and 14 nm away from Alacati. The port is completely safe; currently the marina is being expanded; work should be limited for the 2019 season. Restaurants and cafes line the waterfront. A shopping street leading up to Cesme-Merkez; mini-buses to Ilica and Alacati available.
To experience sailing the Aegean Sea and visit Cesme Marina, click here to book a berth.