Joining forces with partner companies in Malta, Camper & Nicholsons Grand Harbour Marina is working with some of the Harbours most prominent businesses to help create a cleaner and greener marine environment.
The 'Seabin' was launched last week with the help of Strand Marine and Zibel an E-NGO aimed at forming a constantly growing community of people, who love to see Malta sparkling clean - like the true gem that it is. This initiative comes at a time when there is a great emphasis on cleaner and greener eco-friendly initiatives which people want to be actively apart of to help take-care of the environment.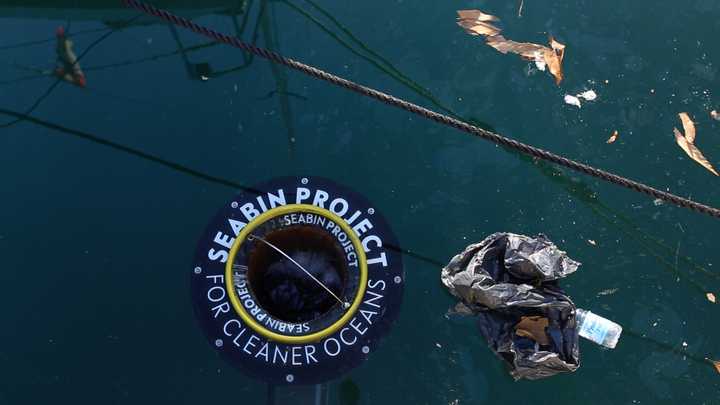 A Press Conference was held at The Sheer Bastion on Thursday 25th of October with neighbouring business' who were actively involved in co-sponsoring the initiative, namely;
Camper & Nicholsons Grand Harbour Marina
The Von der Heyden Group
Cugó Gran Macina Grand Harbour
Hammett's Collection
Palumbo Ship Yard
Bradbury Yacht Concierge Services
S&D Yachts
Grand Harbour Marina is delighted to spear head this latest activity to help with the increasingly important Greener Marina campaign, which has already this year has included initiatives such as two big 'Clean Up' days and events to celebrate Malta being one of the cleanest environments for all to enjoy.
Water is sucked in from the surface and passes through a catch bag inside the Seabin, with a submersible water pump capable of displacing 25.000 LPH (litres per hour),.  The water is then pumped back into the marina leaving litter and debris trapped in the catch bag to be disposed of properly.
The Seabin also has the potential to collect a percentage of oils and pollutants floating on the water surface.
Emma Cassar, Head of PR & Events for Grand Harbour Marina stated, "It is fantastic to see that our vision for a greener marina and cleaner oceans is shared across the locality. We aim to create a community which works together in combating marine debris. No doubt this will be the first of many collaborations aimed at raising environmental awareness."
The 7 private companies have collaborated with Strand Marine and e-NGO Żibel, a community dedicated to keeping Malta clean, in procuring this award winning device capable of filtering 1.5 kgs of floating debris per day including harmful micro plastics up to 2mm small.
Chris Hammett, Director of Hammett's Collection said: "The 3 city marinas not only provide unparalleled scenery in Malta, it is part of the island's cultural heritage that is enjoyed by locals and visitors from all over the world. Investing in this incredible holistic solution is another step forward in ensuring environmental sustainability."
This is the second Seabin to be installed on the island. The idea was developed in Australia with the help of crowdfunding. Sea Bins have already made a huge difference to harbours in places such as Gibraltar, Singapore, Ireland, Italy and the UK.
Click here to book a berth at Grand Harbour Marina.