Camper & Nicholsons Marinas have been on the idyllic island of Grenada since 2012. Port Louis Marina located just outside the capital St. Georges, is a perfect destination to berth your yacht and explore all of what the Caribbean island has to offer.
Charlotte Bonin, Marina Manager and the team at Port Louis Marina have together chosen their top attractions from their authentic Caribbean home. We hope you like them too!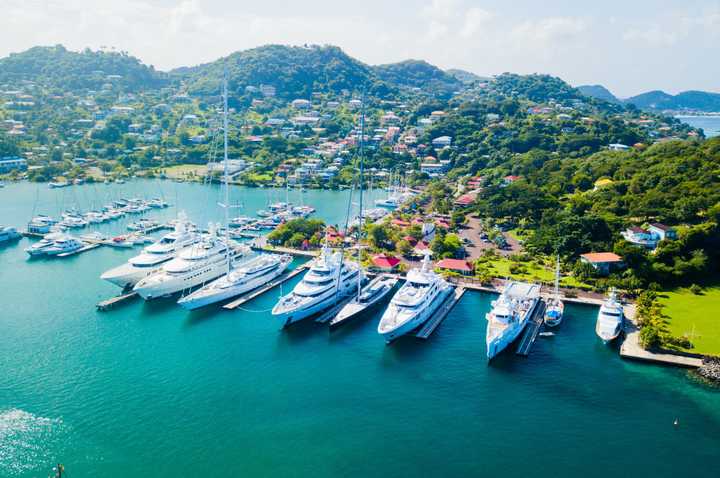 Charlotte Bonin and team at Port Louis Marina highly recommend...
A steep climb to Fort George, a dilapidated complex built by French and British in colonial times that is now HQ for Grenada's police force, which offers superb views down the coast and back towards the town.
Grenada National Museum, with engaging exhibits ranging from Amerindian ceramics found on the island to photos, paintings and displays, including the Bianca C cruise ship which caught fire in 1961.
Grand Etang Lake, a large and scenic water-filled crater of an extinct volcano. Follow the start of the trail towards Mount Qua Qua, where there are expansive views over the lake and to the sea in the distance.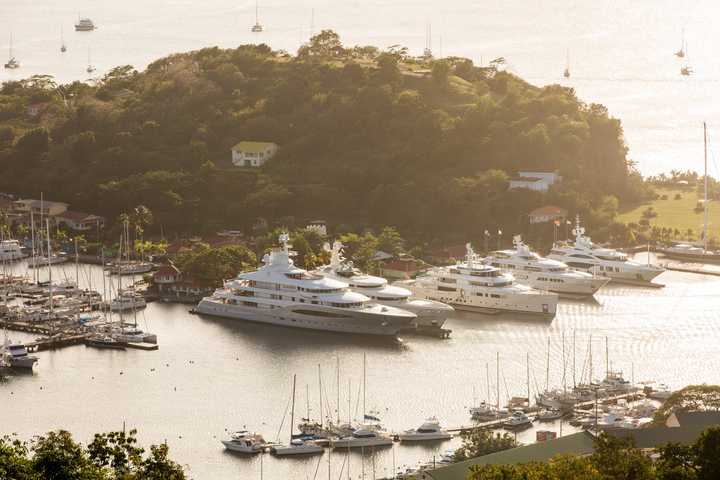 Other attractions on the small island of Grenada include;
River Antoine Rum Distillery
Dating from 1785, this distillery makes a fair claim to be the oldest, continuously operational rum factory in the Caribbean. Thirty-minute guided tours let you observe the whole fascinating, traditional, rum-making process. It starts with sugar cane fed by hand in to a crusher to extract the cane juice and ends with a drink so potent that the main brand is too flammable to be allowed to be taken on planes.
Belmont Estate
The prime crop on this scenic, 300-year-old plantation estate in north-east Grenada is currently cocoa. Visitors are shown how the cocoa beans are fermented and dried, and those who have signed up for the Bean to Bar tour are then taken up the road to the Grenada Chocolate Company's quaint chocolate factory in the village of Hermitage, to see how the estate's cocoa beans are turned into chocolate.
Gouyave Nutmeg Processing Station
This nutmeg processing station offers visitors engrossing 15-minute-long tours. You get to see the nutmegs drying on long racks and dexterous ladies sorting and shining the nutmegs.
Annandale Falls
This waterfall is Grenada's most easily accessible – you can drive virtually right to it – and therefore the most visited. It's a lovely spot, with the 10-metre high falls tumbling over rocks to a deep pool that is good for swimming. There are also paths leading off through a botanical garden. The falls are 20 minutes' drive north-east of St George's. Signposts are non-existent: get directions before heading out and go armed with a map.
Seven Sisters Falls
The path to these falls is signed off the road a short drive north east of the Grand Etang Forest Reserve. Access is US$2 (£1.50). The path initially leads through a pretty, cultivated landscape of nutmeg trees and dasheen, then descends in to the jungle to the falls. The largest waterfall is some 10 metres high, and has a big, inviting pool in which to swim at the bottom.
Port Louis Marina is a tranquil marina and overlooks the colourful waterfront of the Carenage and has 160 berths for yachts up to 300 feet. We are a fun and friendly team and enjoy welcoming yachts and super yachts throughout the year!
To visit Port Louis Marina and book a berth this season, click here.