Perfectly timed to open the summer season, the MYBA Charter Show (23rd-26th April), in Barcelona and Palma Superyacht Show (27th April – 1st May) in Palma, have both firmly established themselves as the must-see events in the Mediterranean yachting calendar.
This year, Camper & Nicholsons Marinas (CNM) are delighted to participate in two marine industry superyacht events, helping represent the following international marinas within the CNM network;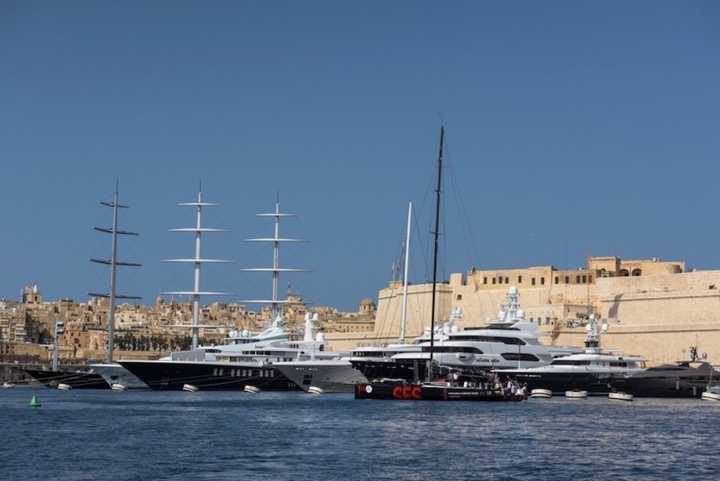 Grand Harbour Marina, Malta– weekly events and provides almost constant entertainment to captains and crew – ensuring they enjoy the best of everything the Maltese archipelago has to offer.
Limassol Marina – located in Cyprus, Limassol Marina offers the perfect blend of high-end restaurants, luxury shopping, bars, a yacht club and a spa for captains, crew and owners to enjoy.
Marina d'Arechi – Within the charming town of Salerno, Marina d'Arechi is perfectly located to explore the natural wonders of one of the most beautiful parts of Europe – the Amalfi Coast, Italy.
Cala Ponte – Nestled under the ancient, picturesque clifftop town of Polignano a Mare, on the south eastern coast of Italy, Cala Ponte Marina is a purpose-designed and built 'eco' marina in southern Italy.
Both the MYBA Charter Show and Palma Superyacht Show, provide the marina network with a unique opportunity to connect to new and existing clients who berth at the marinas, which are world renown for offering exceptional facilities to some of the world's largest superyachts.
The unique locations of each marina offer the most exceptional services to superyachts in highly fashionable Mediterranean locations. Perfect for wintering or spending high-season, each marina destination has regular international airport connections, wonderful weather throughout the season and each is close to an array of beautiful beaches, natural coves to explore, fantastic architecture, places of historic interest, high-end culture, cool bars and gastronomy in abundance.
The MYBA Charter show – located at the iconic Port Vell Marina development, is a professional trade show and true celebration of yachting. The event brings together the world's leading luxury charter professionals and allows them the opportunity to view some of the finest yachts available for charter, meet captains, and experience an exceptional array of services from world-class provisioners.
The Palma Superyacht Show – Palma's harbour on the Port Moll Vell, with the picturesque backdrop of the cathedral and the Mallorcan capital, the show is renowned for hosting some of the finest superyachts for sale and charter. Yachting professionals are on hand throughout the five-day event to provide expert advice in a relaxed atmosphere.
Dan Hughes COO Camper & Nicholsons Marinas comments, "Camper & Nicholsons Marinas represent marinas which exemplify exceptional customer service, high-quality facilities, innovative design and a unique personal touch. The marinas showcasing at the MYBA and Palma Superyacht Show are located within warm, relaxing Mediterranean surroundings and are ready for a busy season ahead. We are confident that being at both boat shows will encourage a busy season of superyacht berth bookings!"
This year at the shows, Camper & Nicholsons Marinas have forged strategic partnership opportunities with Camper & Nicholsons International, ACREW, No. 12 Wines Fine Wines & Provisioners and Crew Privilege.
To book an appointment to meet Camper & Nicholsons Marinas along with Grand Harbour Marina, Limassol Marina, Marina d'Arechi and Cala Ponte at the shows, please click here.
*main picture with thanks from MYBA.