For the first time, Cesme Marina hosted the ESTİ Water Polo Club participants at the first Water Polo match to take place within a marina in Turkey.
More often competitions and practise take place in local swimming pools or leisure centres, this year however the Water Polo Festival was invited to take place within Cesme Marina.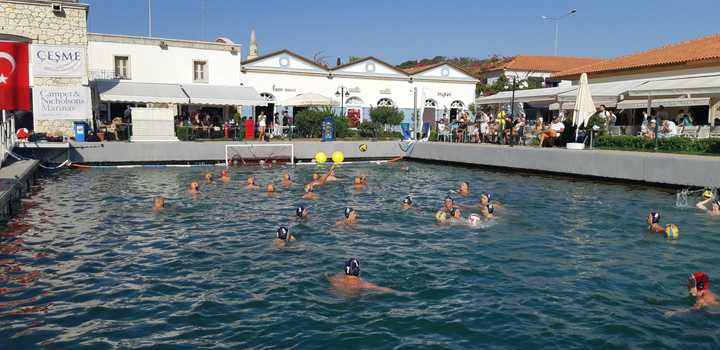 The Cesme Marina team helped create a large enough pool area by moving some of the berthed yachts and pontoons, allowing space for a 20m by 30m to be created for the games to be played.
The Water Polo Festival consisted of 4 teams who travelled from Istanbul, Bursa, Ankara and Izmir. Matches were enjoyed by many spectators visiting Cesme Marina including the U13 (young players) teams which was a great success to watch.
The weekend concluded with a finale ceremony presentation of participation cups to all teams.
Can Akaltan CMM, General Marina Manager at Cesme Marina commented,
"We are always looking for more ways to show Cesme Marina as an exciting destination to visit. Our events scheduled throughout the year help this, and the opportunity to work with the Water Polo Festival and be the venue host for this year was incredibly exciting – especially as doing this as a first marina in Turkey! We look forward to welcoming the Water Polo Festival back again next year."
The Water Polo Festival at Cesme Marina attracted approximately 250 spectators and featured in the news with TRTSpor.
To book a berth at Cesme Marina, click here.