Cesme Marina is delighted to be awarded one of the highest marine accolades - The Blue Flag Award
The iconic Blue Flag is one of the world's most recognised volunteer awards for beaches, marinas, and sustainable boat tourism operators. To qualify for the Blue Flag, a stringent set of environmental, education, safety, and accessibility criteria must be met and maintained.
Cesme Marina continues to be ahead of the curve in supporting environmental best practise on site at the marina. This includes the provision of projects to help cleanse the water in the marina including planting of mussels, trepangs and coral. These award-winning initiatives are closely monitored by local partners and the community to ensure the marina is a place for marine life to thrive.
Cesme Marina General Manager Bora Ergezgin comments;
"We are proud and happy to be a Blue Flag marina with our environmental practices and many environmental awards. We will continue to improve our standards by keeping them in line with these criteria."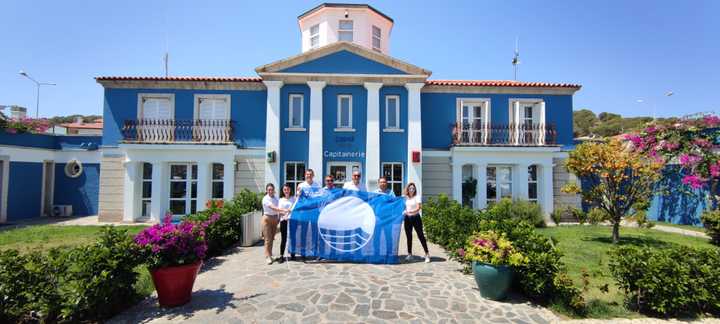 The Çeşme Marina team, which was entitled to receive the 2022 Blue Flag for its compliance with the specified criteria, received the flag from the North Aegean Provinces Coordinator Doğan Karataş.
The Blue Flag was first applied internationally in 1985 in France, in 1987 in the European Union, in 1993 in our country, and in 2000 in countries outside the European continent. Today, it is applied in 48 countries worldwide, 30 of which are in Europe.
To book a berth at Cesme Marina, click here.