The 'best yet' Marina Clean Up has successfully taken place at the iconic Grand Harbour Marina in Malta.
Boasting 20 people from the local community, including Grand Harbour Marina staff, family members, local environmental enthusiasts and boat owners, all took part to make this recent clean up the best one yet!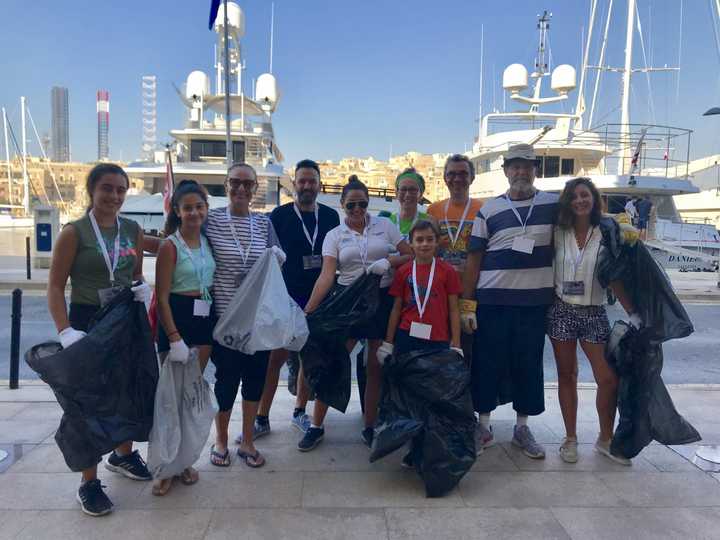 Emma Cassar, Events & Marketing Manager at Grand Harbour Marina has spearheaded several eco-initiatives to help promote a safe, clean and friendly marina atmosphere for the local community, boat owners and Captains to enjoy the most. The Marina Clean Ups have proved successful and have encouraged an eco-friendly ethos in the marina.
Nik and Justine Lovenow have continued to support the clean ups since their inception, and comment;
"Thank you so much to the team at Grand Harbour Marina for organising clean ups at numerous times throughout the year. We are always so delighted to join you and elated by your enthusiasm. Looking forward to the next one!"
The latest Marina Clean Up collected over 25 bags full or rubbish, which were separated into plastics, metal, glass and paper ready for collection by the local council of Birgu.
Emma Cassar, comments;
"It is important to say that due to Summer Holidays we had numerous younger people joining us for the Clean Up, which we were so happy to see.  We took the opportunity to educate them on marine conservation, adapting an eco-friendly mindset and ways in which to live a zero-waste lifestyle. This was a fantastic way to kick off World Clean Up week."
Stand By for details of our next MARINA CLEAN UP!! Plus, the Grand Harbour Marina Wednesday Social will be the first to be 100% plastic free! An initiative which the marina plans to continue to implement throughout all the events at Grand Harbour Marina.
To book a berth at Grand Harbour Marina, click here.