Camper & Nicholsons Marinas will provide management, operational and branding services to the boutique marina at Elounda Hills, creating a new global destination for yacht owners and enthusiasts.
The boutique marina will be surrounded by a private beach club, fitness and wellbeing facilities, shopping boutiques, lively restaurants and bars across 2km of coastline, alongside additional seasonal mooring for superyachts.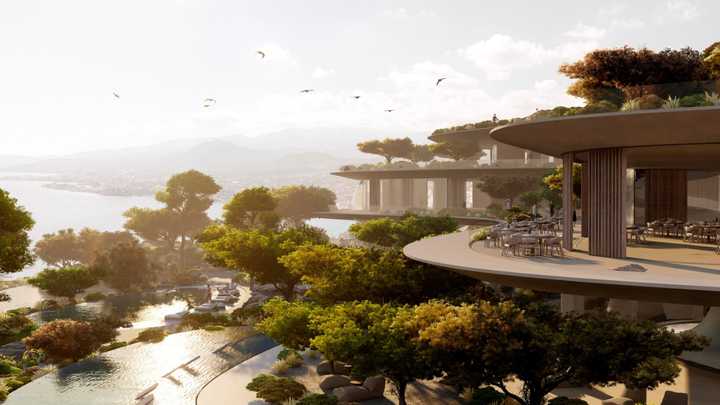 Set across an ancient hillside with an amphitheatrical masterplan, Elounda Hills is primed to become the leading ultra-luxury sustainable resort in the Mediterranean. The centrepiece of Phase 1 of the development will include a 137-key hotel and 257 residences, the majority of which will be serviced by 1 Hotels. Each of these residences will feature unobstructed views of the Mirabello Bay and the Aegean Sea beyond.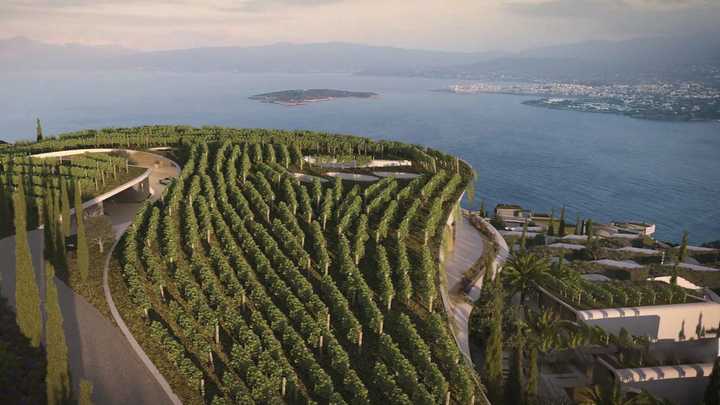 In the heart of the Mediterranean, the captivating island of Crete promises year-round sunshine, breath-taking scenery, world-class archaeological sites, heavenly cuisine, and soon, it's very first branded residential resort. Greek developer Mirum Group has this month announced the arrival of Elounda Hills, a luxury 138-acre resort on the north east coast, developed in collaboration with nature-inspired lifestyle hotel brand, 1 Hotels.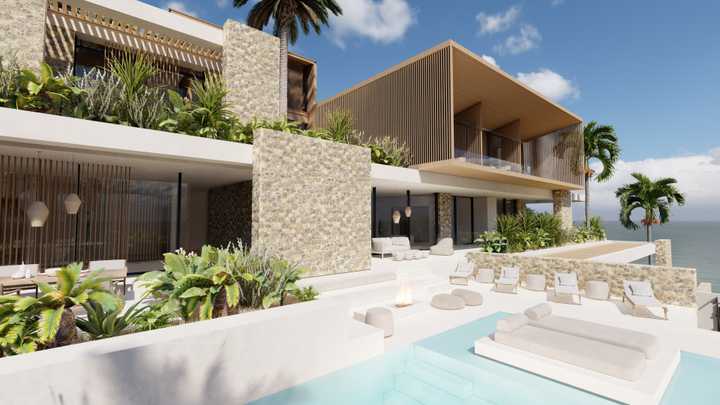 Situated between the city of Agios Nikolaos and the traditional fishing village of Plaka, the town of Elounda is the definition of quintessential Cretan living. Featuring views of the historic islet of Spinalonga, crystal clear waters and family-run eateries, this coastal town is a magnet for holiday-makers year after year. First recorded as 'Olous' or 'Olounda', the area is rich in Ancient Greek culture, with archaeological research recording civilisation here dating back to the Minoan times.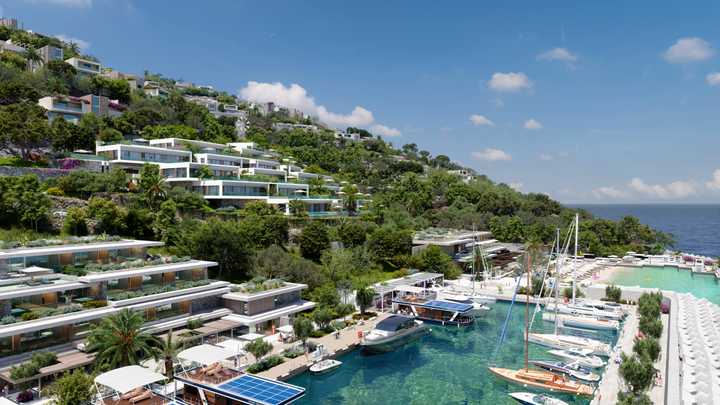 As an environmentally conscious Developer, Mirum Group's partnership with 1 Hotels will introduce a level of sustainable living not before seen on the island. At the core of 1 Hotels' values lies a passion for creating destinations that respect and preserve the environmental and cultural contexts of their setting, whilst also promoting the health and wellbeing of their guests and residents. Inspired by the ancient Greek phrase 'Νοῦς ὑγιὴς ἐν σώματι ὑγιεῖ''which translates as 'healthy mind, healthy body', Elounda Hills is being designed in line with world-leading holistic practices BREEAM and LEED.
Optimised renewable energy sources, water and waste recycling, plastic-free zones, 'fish to fork' dining, biophilic design inspired by the authentic Cretan architecture, and colourful botanical gardens filled with local flora will add to the resort's regenerative approach, leaving a lasting net positive impact on its surroundings.
Less than an hour from Heraklion International Airport and 30 minutes' drive from Kastelli International Airport (set to open in 2026), Elounda benefits from Crete's robust infrastructure and transport links. Standing proudly as Greece's largest and most popular island, Crete welcomes over 6 million visitors a year, drawn to its dramatic and diverse scenery of mountainous terrain, lush vineyards and olive groves, idyllic coastal villages, sandy beaches and hidden coves.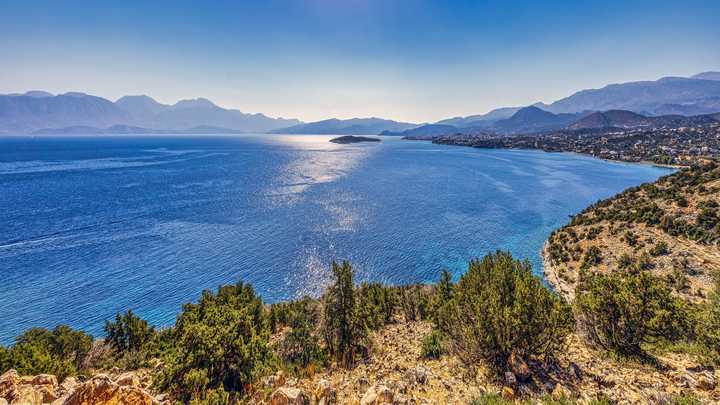 Rich in history and culture, the island offers a wealth of archaeological sites and snapshots of ancient civilisations. Just outside the capital city of Heraklion lies the Palace of Knossos, a pre-Greek Bronze Age site that once served as the political centre for the Minoans over 4,000 years ago. To the west, the town of Rethymno is a shining example of traditional Venetian architecture, and natural wonders such as Mount Ida, Samaria National Park and Psychro caves, the birthplace of Zeus, offer endless opportunities for exploration.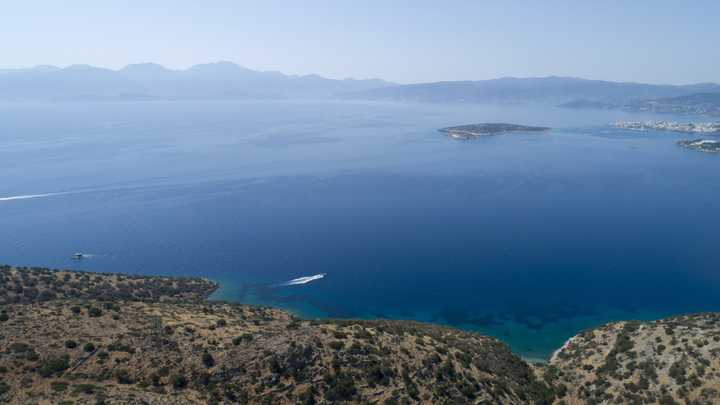 Angelos Angelidakis, CEO, Mirum Group, comments;
"We are thrilled to unveil our masterplan for Elounda Hills. Although a popular tourist destination, Crete remains largely undeveloped and our vision to create a new international lifestyle destination for the island has been many years in the making. Our partnership with 1Hotels adds a new dimension to the real estate offering in Crete and our stellar team of architects, designers, sustainability and marine experts will ensure this project sets a new bar for luxury living in the Mediterranean. We look forward to launching the sales of the residences in the coming months."
Raul Leal, CEO, SH Hotels & Resorts , comments;
"We are excited to be part of a special project like Elounda Hills whose ambitions align perfectly with 1 Hotels. As a mission driven nature-centric brand, we appreciate the opportunity to be able to cultivate Elounda Hills' natural beauty and history into a luxury hospitality experience highlighting the best of sustainable design and comfort. We look forward to being part of this new Mediterranean destination as we continue to expand the 1 Hotels brand globally."
Phil Ladmore, Commercial Director at Camper & Nicholsons Marinas, comments;
"We are delighted to be working with Elounda Hills and look forward to providing pre-and post-opening marketing, branding and operational marina management support to ensure the marina becomes a prominent and successful cruising destination. The new marina will benefit from Camper & Nicholsons' global marketing reach and brand equity, increasing awareness amongst yachting and luxury communities."
Phase 1 of Elounda Hills is scheduled for completion in 2026. Sales are due to launch Spring/Summer 2023. For more information, visit www.eloundahills.eu