Join us in the unspoilt paradise of Grenada & The Grenadines. Owned and managed by Camper & Nicholson's Marinas, Port Louis Marina is the full-service marina destination to visit this season in the southern Caribbean for secure yacht and superyacht berthing.
Celebrating the winter berthing season for the 2017/2018 year, here are the top 10 reasons to berth at Port Louis Marina in Grenada as suggested by our General Manager Glynn Thomas and Marina Manager Charlotte Bonin...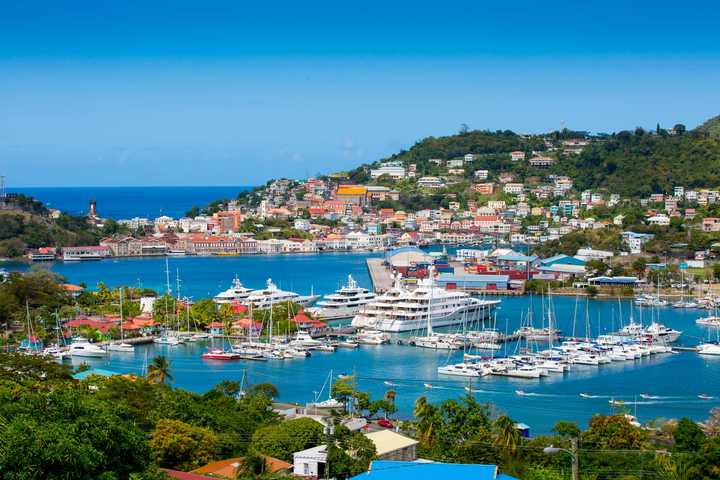 The Island Fauna & Flora
The rain forest A wildlife-rich rainforest. The lush vegetation provides shelter for a wide variety of animals, particularly for the island's many species of birds, home to the Grenada dove (its national bird) and the rare Mona monkey
Grand Étang National Park High up in the mountains of the islands, around 1,740 feet above sea-level.  Encompassing a 30-acre crater lake – the remains of a once-active volcano – great for hiking, trekking
Water falls, Concord Waterfalls, Annandale waterfalls, Seven sister waterfalls, all beautiful and unique. swim in a fresh crystal-clear water. you can hike at most of them.
The people
Grenadians are without a doubt some of the friendliest people in the Caribbean. Proud of their island and their heritage they will always want to share and showcase it to anyone visiting the island.
Local Produce
The Rum Grenada is home to several distilleries including River Antoine Rum Distillery (the oldest working estate in the Caribbean) and Westerhall Estate. Of open for visits of the estate
The Spices Named the "Spice Island" largely after its renowned nutmeg exports. visit working spice plantations like Belmont Estate.
Grenada Chocolate high quality organic dark chocolate in Grenada using the world famous cocoa beans that grow right on their own doorstep.
Events
RORC ( PLM – December 2017)
Regattas, home of Grenada Sailing Week and Keel Boat Regatta. (February 2018)
Pure Grenada Music Festival (April 2018)
Carnival (August 2018)
Lime & Dine
Grenadian cooking blends African, Asian and European traditions and with so many fresh ingredients
International restaurants, from a variety of Indian, French, Chinese, Japanese, Italian cuisines is available on the islands. From casual to high end cuisine.
Weather
All year-round destination, warm weather all year round
One of the best sailing destination
Sister Islands
Carriacou is known as "Land of the Reefs" with shallow clear waters that make for incomparable snorkeling
Petite Martinique has a local population of only 900 people overlooking beautiful private island, Petite Saint Vincent.
Both a boat ride away from Grenada main island
The Grenadines
Grenada is next door the famous Tobago Cays National Park. One of the most amazing place in the Caribbean. The archipelago located in the Southern Grenadines comprising five small islands and extensive coral reefs. The cays – Petit Rameau, Petit Bateau, Baradal, Petit Tabac and Jamesby – are all uninhabited and can only be access by boat.
Activities
Diving: An underwater sculpture park, spectacular coral reefs, and the Bianca C shipwreck are some of the underwater treasures you'll find in Grenada.
Water Sports: Kayaking, paddle board, hobie cat
Hiking through the rain forest and water falls
Adventurous activities: water tubbing, jeep tours, deep sea fishing…
Beaches
Grand Anse – most famous beach in Grenada for its long white sandy beach, with nice restaurants and hotel on the beach front.
BBC Beach – Gorgeous setting in a scenic cove, beautiful calm water, with a lot of shade and a few local bars to get refreshments.
La Sagesse – quiet, secluded beautiful grey and white sands beach, perfect for a change of scenery and tranquility
To book a berth and meet the team at Port Louis Marina, click here.