Boasting three UNESCO World Heritage sites, premium facilities, world-classdiving, glittering hidden coves and 300 sunny days a year, Malta – and its sister islands Gozo and Comino – aren't just a pit stop to other salubrious locations in the Adriatic and the Aegean. They're captivating destinations in their own right.
Malta is, in fact, Queen Elizabeth's favourite Mediterranean island, and Europe's most popular filming destination. Dubbed 'the Mediterranean's mini-Hollywood' by The Times of London, many of the islands' highlights feature in Hollywood blockbusters, including Captain Phillips, featuring Tom Hanks, Gladiator, featuring Russell Crowe, and Troy, featuring Brad Pitt. Not to mention the hit series, Game of Thrones.
Moor at Camper & Nicholson's Grand Harbour Marina and you'll soon discover why this island trio is deserving of far more time and attention than an overnight's stay.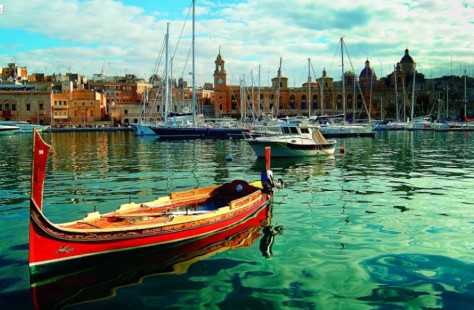 The World Heritage hit list
For an archipelago is so small, it's remarkable that Malta and Gozo lay claim to three world heritage sites. What's even more extraordinary is how easy it is to visit them all. First on the list, the Maltese capital, Valletta – soon to be European Capital of Culture in 2018. With the whole city designated a world heritage site, strolling through its ancient fortifications will take you back in time. Be sure to stop at the Upper Barrakka Gardens for a panoramic view of the Grand Harbour.
Continue your journey through the past in Malta's south. Here you'll find the megalithic temples of Řaœ ar Qim and Mnajdra, commanding hilltop positions overlooking the sea. Then, just a short trip inland are the Tarxien Temples. You'll also find the Œgantija Temples in Gozo, notable for their gigantic Bronze Age structures.
Finally, don't miss the Hypogeum of Řal-Saflieni. Older than Stonehenge and the Pyramids, the 5,000-year-old underground prehistoric burial site, is made up of interconnecting rock-cut chambers set over three different levels.
The civilization that created this incredible structure left no other record of itself other than the Hypogeum and no real clues as to why they constructed it. With only 8 visitors an hour allowed in, a visit to this atmospheric site is indeed a privilege. This is a very popular site, so pre-booking is essential, at least a week in advance.
Sun worshipping, cove exploring and diving
Malta's size, at just 17 miles long by 8 miles wide, means you're never far from stunning beaches,
hidden coves and pristine waters. What's more, in Gozo and Comino, you'll have views out to the sea almost everywhere you go.
Malta's most popular beaches are Mellieř a Bay, Gř ajn Tuffieř a and Golden Bay. But if you want peace and seclusion, you'll find exactly that at the island's tip. In Gozo, the red sandy bay of Ramla l-Řamra has to be its prettiest beach.
On the coast, don't miss the azure allure of the Blue Grotto caves, where a scene from Troy was filmed. Regular boat cruises leave from the tiny harbour of Wied iĪ -ĩurrieq. Equally striking is Gozo's most famous landmark: the Azure Window. A 100-metre high natural arch, hollowed out of the coastline, which appeared in the hit TV series Game of Thrones.
Malta is also home to some of the best diving in the Mediterranean. Go beneath the waves to discover extraordinary underwater landscapes, ranging from labyrinthine caves to wartime wrecks.
Sports and activities
If you'd like to get more active, Malta offers excellent sporting activities. But your stay won't be complete without a trip to the prestigious Marsa Sports Club – just a 5-10 minute drive from the Marina. It has a top-notch golf course, cricket, squash, pool, tennis courts and fitness centre.
It's also home to The Malta Polo Club, which hosts games every Wednesday and Saturday at 5pm.
Dining and wining
From rustic Maltese classics to Michelin-starred dining, Malta caters for every appetite and occasion.
The Tartarun Restaurant in Marsaxlokk is a must for fish and seafood, and Chukkas at The Malta Polo Club boasts a fantastic meat menu. However, don't set sail without eating at Palazzo Parisio in Naxxar. This opulent 19th-century stately home is one of the island's most desired filming locations, and has featured in the film The Count of Monte Cristo and the BBC drama, Byron.
For wine lovers, a memorable trip awaits at Meridiana in Ta'qali – the only winery on the island to have its own estate. Here you can tour the vineyards, learn about the estate's history, and sample internationally acclaimed wines made from grapes grown exclusively in Maltese soil. The estate's covered terrace, overlooking the vineyard and surrounding hills is an idyllic setting for a wine tasting.
Just 5 to 10 minutes from the Marina is the Marsovin Cellars in Paola, too. Built by the Knights of St. John, over 100,000 bottles and 220 oak barrels are aged in these 400-year old cellars. Sip some Marsovin delights and enjoy an authentic insight into the history, production and true culture of Maltese wine.
Peace and quiet
Away from the madding crowd, The President's Kitchen Garden in Attard is the perfect place to unwind in the tranquility of Malta's most historic gardens. With an animal park, two children's
play areas, an educational programme and café – there is plenty to engage and entertain the little ones while you enjoy the distracting beauty of the grounds.
A stone's throw away is Malta's finest historic stately home, Villa Bologna. Soak up its architectural grandeur with a guided tour, and wander through the enchanting Baroque gardens. It also has an on-site ceramic workshop where you can appreciate and buy hand-painted earthenware.
If you're looking to sample more Maltese artistry, a trip to Crafts Village in Ta' Qali is a must. Best known for its ceramic, pottery and glass, you can watch the makers in action and purchase some exquisite pieces to take home.
Year-round events
Beyond the islands' physical charms is their overflowing calendar of events. From the anniversary of the Great Siege of Malta in November, to the prestigious Trophée Bailli de Suffren in the summer, there's an event for every taste.