Malta hosts an incredible plethora of events throughout the year that cater to all ages and tastes. Malta's rich event calendar offers performances, festivals, exhibitions, and feasts from local and international entertainers and exhibitors all year round. Malta welcomes, every year, multiple international contemporary, classical and jazz artists hosting various concerts and festivals throughout the year.
Malta plays a host to multiple sporting events, on the land, sea and in the air and its art scene offers a range of theatre, dance performances, pantomimes, plays and more. Explore some of Malta's events taking place this year below.
January
The city of Vittoriosa, a 2 minute walk from the marina, celebrates it's 200th anniversary since the church of St Lawrence became a Collegiate. Vittoriosa is considered the oldest parish in Malta after the Imdina Cathedral. During the first years of the Knights on the island, the church of St Lawrence served as the Order's conventional church, and the actual church was built years later, towards the end of the 17th century, to plans by Lorenzo Gafa'.
February
21st – 25th February – Malta Carnival – 5 days of fun, music, colours and entertainment celebrated across the Maltese islands. It kicks off on Friday till Tuesday just before Ash Wednesday and the start of Lent. Nowadays, Carnival is marked by a competition of colourful, gigantic floats accompanied by parades of dancers dressed up in flamboyant masks and costumes. The main parades are held in Valletta and Floriana, just across the bay from the marina. All around the Maltese Islands there are various balls and many of the Villages have their own carnival celebrations.
March
Opportunities in Superyachts Annual Conference on the 25th March – Opportunities in Superyachts proudly sponsored by Grand Harbour Marina Now in its 8th Successful year, the conference will highlight issues of importance to industry leaders globally, while throwing the spotlight on Malta`s pivotal role in the superyacht sector. With a mixture of plenary, breakout sessions and more intimate round table sessions you will be able to tailor the experience to cover exactly what you need and ensure excellent networking throughout the day.
Click here to get your ticket.
Festa Frawli 'Strawberry Festival' – Date TBA – One of the biggest reasons behind the local people waiting for spring months is the Strawberry Festival! The festival, known as 'Festa Frawli' by the locals, is organized in Mġarr which is a village on the north of the island. Delicious strawberries are picked up for the festival and local people prepare some tasty strawberry delicacies for the stalls to be set up in the square outside the Parish Church. Strawberry Festival welcome local and foreign visitors with super tasty strawberries, stalls and entertainment shows.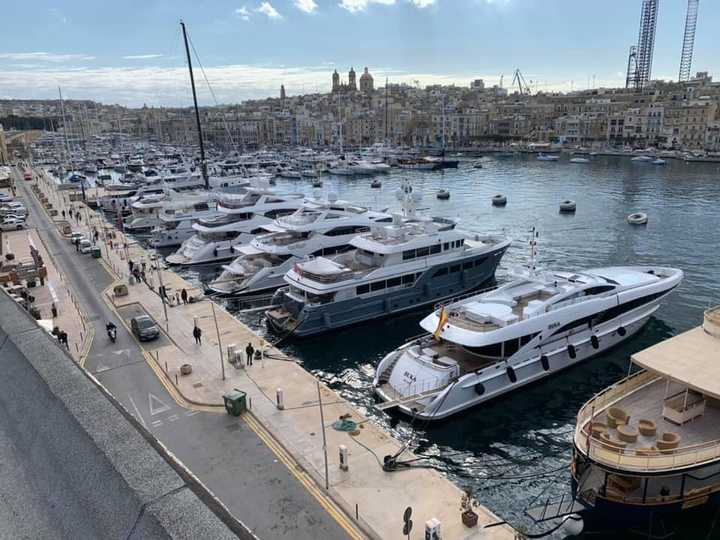 April
Easter Week from 6th-12th April – Easter is a big celebration in Malta. Churches are lavishly decorated and glow in the evenings. You shouldn't miss the magnificent Easter church parades on Good Friday and Easter Sunday. Two famous parades take place on Good Friday in Qormi and on Good Friday and Easter Sunday in Vittoriosa. Many Maltese participate and re-enact Biblical scenes in costumes. On Easter Sunday in particular, a happy and exuberant atmosphere covers the island.
International Fireworks Festival from 18th-30th April – The Ministry for Tourism and the Malta Tourism Authority are pleased to announce that the 19th edition of the Malta International Fireworks Festival will be taking place between the 18th and 30th April 2020. Each night promises to be a beautiful display of colour and coordination, and the closing night is bound to be a true spectacle.
Lost and Found Festival from 30th April – 3rd May 2020 – This event invites you to dance, listen to fantastic music from your favourite DJ's and guarantees endless fun. Organised by DJ Annie Mac, the Festival promises various parties in some of Malta's best open-air nightclubs but also offers boat parties, pool parties and even a party in a historic castle! Lost & Found gives you a chance of having an exciting experience with a diverse crowd. It is one of the best options for those who want to be part of a long weekend of legendary parties.
May
Mercedes – Benz Malta Fashion Week from 20th-28th May – The Malta Fashion Awards provides a space through which the talented individuals working in Malta's fashion industry may be recognised, while also celebrating fashion's contribution to visual culture. This national scale event marks out Malta's growing fashion culture as a primary creative industry, a celebration of Maltese and international fashion which is due attention on the cultural calendar.
Now in its 10th edition, this much-anticipated event sees fashionistas gathering for a week of fashion shows, parties, and events that showcase some of Malta's finest industry talent – from fashion designers to catwalk models, stylists, make-up artists, photographers, fashion bloggers and writers.
Malta International Music Festival from 25th April- 10th May – The 9th Malta International Music Festival will take place between 25th April and 10th May 2020, featuring highly acclaimed world-famous musicians. MIMF 2020 offers a rich and varied programme including solo recitals, chamber concerts with the Primavera Chamber Orchestra (Tatarstan) and grand orchestral concerts with the Malta Philharmonic Orchestra at the Republic Hall of the Mediterranean Conference Centre in Valletta, Robert Samut Hall in Floriana and the Russian Centre for Science and Culture in Valletta.
June
SB20 National Championships from 6th – 7th June – Grand Harbour Marina continue to show their support to a class of sailing which is quickly becoming a popular choice for competitive coastal racing of the Maltese Islands. Such events also allow foreign sailors and yacht crew to be able to get actively involved with the local sailing community further growing the already popular sport on the island.
Earth Garden Festival from 4th- 7th June – The next edition of Earth Garden Festival will be held between the 4th and 7th of June 2020 at the National Park in Ta' Qali. Earth Garden is Malta's largest Alternative Festival held annually at the National Park in Ta' Qali since 2007, attracting around 25,000 true music lovers over 4 days. It features 6 music areas and over 100 acts from around the World with an eclectic music fusion of World Music, Ska, Funk, Blues, Reggae, Alternative Rock, Dub, Hip-Hop, Psychedelic Trance, Techno, House, Acid and more.
Furthermore, Earth Garden is a local pioneer in implementing new methods of waste management and for spreading public awareness on environmental matters, followed by other festivals in Malta as a leading example. Celebrate music, diversity and life at Earth Garden Festival!
July
Rock the Fort Festival from 10th-11th July – It will be hard to top last years unforgettable performance by the one and only Marc Martel – the Voice behind Bohemian Rhapsody, giving GHM client front row seats to an unforgettable show. This year they aim at hosting a 2 day rock festival. Stand By for further information.
The Malta International Jazz Festival from 13-18th July – Is undoubtedly one of the more eclectic musical celebrations on the local cultural calendar. Bringing together some of the best Maltese and international artists, this event promises to thrill its audience with contemporary jazz styles that are currently dominating the musical scene. Each year, the festival brings a variety of world-renowned artists to perform in the capital city, with previous editions having hosted world-class performers such as Wayne Shorter, Herbie Hancock, Michael Brecker and Brad Mehldau. With a variety of gripping main sets and fringe events staged under Malta's starry summer sky, the Malta International Jazz Festival has become a staple favourite on the local cultural calendar.
Celine Dion Live in Concert on the 27th July – NNG Promotions is proud to present one of the most immediately recognized and widely respected superstars in pop music history, Celine Dion, to perform live in Malta on Monday 27th July 2020 at the Granaries, Floriana. Celine Dion's performance will form part of her 'Courage World Tour' and will hit 100 cities around the globe including a very first time appearance for Malta.
August
Local Feast of Santa Marija – 77 years ago today on August 15th 1942 the tanker Ohio made it to Malta which was about to succumb to its enemy in World War II. It was carrying the much needed fuel, ammunition and oil while tankers loaded with food also made it to the Grand Harbour. The convoy suffered endless attacks as it approached Malta and was badly damaged thus its arrival is regarded as a miracle particularly due to the fact it arrived on the 15th of August: Santa Marija's feast. On the Barracca, St Angelo and Senglea, great crowds of Maltese men and women waved and cheered as it made it to the Grand Harbour. The tanker become known as 'Il-Konvoj ta' Santa Marija' and is fondly remembered in Malta, where to this day she is considered to be the savior of the island!
September
Malta Pride Week from 4th – 13th September – What better place to celebrate Pride than in Malta, the No.1 European LGBTQ travel destination? Malta has been awarded an outstanding 90% in recognition of the laws, policies and lifestyles of the LGBTQ community out of a total of 49 European Countries.
With over 15 events planned in every category including fashion, art, film and sports, LGBTQ travellers will be sure to have an amazing time.
October
Notte Bianca on the 3rd October – Palaces and museums are open until late with special discounts on entry, some are also free such as the President's Palace. The streets are full of life with visual art exhibitions and theatre performances. Music echoes in the streets as local and foreign bands are also on show for your entertainment. Of course, cafes and restaurants will be open until late with food stalls and tables for delicious local delicacies.
The Mdina Grand Prix Classic Car Event on the 12th & 13th October – As late summer beckons the arrival of early autumn, the Mdina street circuit, set in the idyllic countryside beneath the imposing bastions of the Old Capital City, will be host, once again this year. The Mdina Grand Prix, promising a magical weekend of classic car racing. A variety of cultural and other activities will also be organised for the participants and their guests during the days preceding the races which will include guided tours of Valletta, Mdina and the Three Cities and also a tour of the sister Island of Gozo.
Rolex Middle Sea Race on the 17th October – The 41st edition of the coveted Rolex Middle Sea Race starting on the 17th October. This highly rated offshore race is "must do" race for many acclaimed sailors throughout the world. Grand Harbour Marina will once again proudly host last years line honours team SY Rambler.
November
Movember Brunch Run on the 28th November – After Last Years Success, Grand Harbour Marina have decided to team up once again with Studio Fifteen Gym to bring another edition of the 'Movember' Brunch Run, raising awareness for Men's Health and promoting the efforts of Hospice Malta.
December
Gozo's incredible Live Crib – Every year, hordes of volunteers group together with the Ghajnsielem Local Council to put up what indisputably qualifies as the Maltese island's biggest and most ambitious live crib. Spanning an area of over 20,000 square metres, the attention to detail in accurately recreating biblical and historical details for Betlehem f'Ghajnsielem is mind-blowing.
For further information or to book a berth at Grand Harbour Marina, click here.