From your home port at the iconic Camper & Nicholsons Grand Harbour Marina, you can experience an amazing a vast amount of land and water based activity. The world-heritage site of Fort St. Angelo is open for your to view every day from 9am-6pm. A short walk along the marina promenade from the fort is Hammett's Macina Restaurant which is open for breakfast, small tapas lunch and fine dining for dinner.
To concentrate on the cruising hot spots, we speak with Emma Cassar, Events & Marketing Manager at Grand Harbour Marina, Malta; the NEW superyacht destination in the Mediterranean.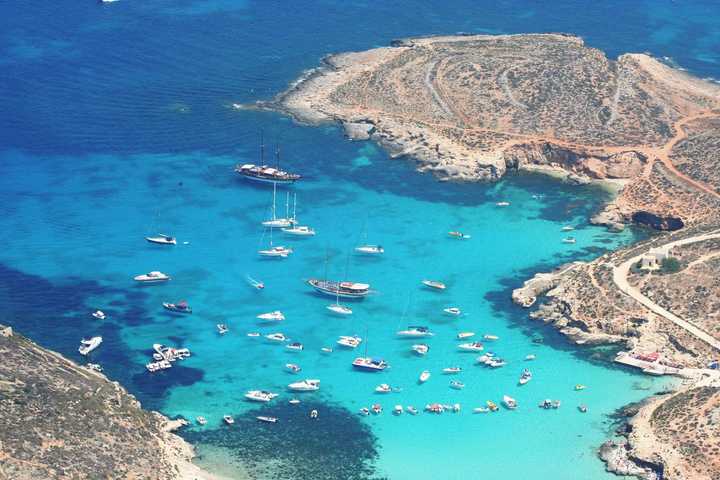 St. Julian's Bay
St. Julian's Bay – this is a good bay to spend as an overnight anchorage. There are plenty of bars and restaurants easily accessible via tender. The cleanest water can be found here and provides an excellent place for snorkelling and diving. There is a very scenic walk along the promenade from the bay to the neighbouring village of Silema. This is where you will find further beach bars and restaurants. St. George's Bay – this is the destination of choice for those who wish to visit the infamous Corinthia Hotel – a great floating dock can easily lead guests to the hotel. There is an excellent cocktail bar and two high recommended restaurants here such Buddhamann and Caviar & Bull St. Pauls Bay / St. Pauls Islands – depending on the swell, the nicest area is behind the island and anchoring close to the island makes for good swimming and snorkelling.
Selmun Bay
Enjoy a morning and breakfast whilst on anchor at Selmun Bay – Although there are no restaurants of sunbeds ashore, this is a secluded beach which is the perfect anchorage location and added benefit of a nice sandy bottom. For lunch time and to enjoy some time ashore or with some water activities, travel to Mellieha Bay – this bay faces the North East and is one of the largest beach destinations in Malta. Although busy in the summer, this area offers respite to Captains and Crew who are often in Malta during the winter season.
Comino Anchorages
Comino Anchorages – a must see for guests of any age. Crystal Lagoon is one of the many anchorages to choose from, the sea is crystal clear, and the bottom has a good holding. Only achievable if with a small tender, but visit the cave which has a white sandy beach at the end of it!
Gozo
A 3.5km sail to Gozo is a sure way to further experience the Maltese charm. San Blas & Ramla Bay – these two bays sit next to each other, are great in flat seas and quite deep. This makes for a perfect superyacht anchorage with not many people around so perfect for swimming and water sports.
Kantra Beach Club
To enjoy a 'fancy' experience, visit Kantra Beach Club, set on the edge of the cliff face and forms part of the exceptional Ta' Cenc Hotel & Spa. Go for a swim and a snorkel, followed by a massage and sunset drinks or dinner at the restaurant.
To book a berth and enjoy some of the many cruising delights around Malta, click here.