The boating season is in full swing around the Maltese Islands with local sailing enthusiasts out on the water almost every weekend, making the most of the Mediterranean sunshine & crystal-clear blue waters.
On the 1st July, Grand Harbour Marina will officially open post Covid-19, alongside other Ports in Malta and the airport.
Since the initial start of the pandemic on the island, local cruising has always been allowed, however international yachting traffic was suspended. This is now set to change, with Malta Ports and Airport given the green light to re-open as of the 1st of July just as the Mediterranean Yachting Season is about to kick off. An up to date list of precautionary measurements can be found here.
Over the past few months, the marina team have done their utmost to follow guidelines set forth by the health authorities and switching to a shift work base pattern but still fully operational 24/7.
Emma Cassar, Events & Marketing at Grand Harbour Marina comments:
"Moving forward we will be promoting a more virtual approach to enquiries and guest relations, directing clients to our GHM APP available for free download on App Store and Android. Via this forum, clients can now get up to date information on notice to mariners, weather forecast, shore side service providers, marina events, local points of interests and much more, minimising the contact between staff and clients, while still delivering a personal and approachable service."
In a bid to keep our superyacht captains and crew motivated, Grand Harbour Marina have adapted their usual weekly crew programmes by going virtual.
Emma continues:
"Our main priority is to have an open mind and come up with innovative ways to keep crew morale high and come together even more so as a marina which promotes a healthy mindset. This was implemented in a number of ways, through virtual social platforms, personal training sessions, yoga classes and educational webinars."
With Covid-19 measures applied in Malta, yielding positive results, we are now looking forward to a fruitful Summer of yachting movement and activity. Malta has forever been a popular stop over for Yachts crossing over from the Balearic's or Eastern Mediterranean due to its strategic position and easily accessible shore side facilities.  However, it is steadily becoming a destination in itself, with hundreds of yacht owners making the most of the Mediterranean climate, and Grand Harbour Marina seen as the leading Superyacht marina set in one of the world's most beautiful natural harbour.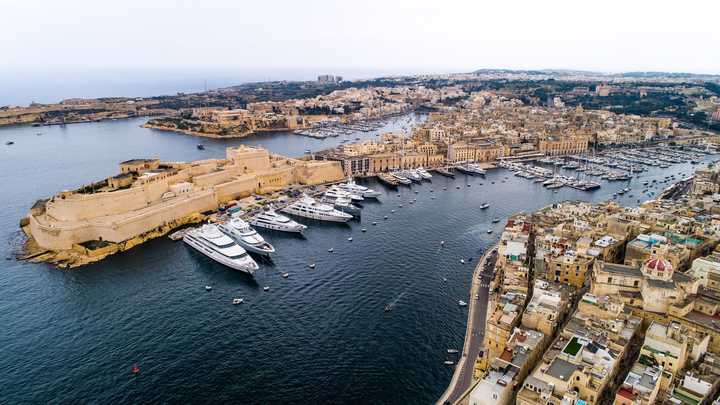 With a focus more on exclusivity and intimacy in this 'new norm' way of vacationing, the luxury aspect of the yachting industry is able to offer just that. From remote anchorages, to private dining experiences and VIP concierge services taking the private luxury experience to a whole new level.
As an incentive to promote the back to boating mindset this Summer Season, Grand Harbour Marina are pleased to offer complimentary berthing time in return for days booked in the marina.
Click here to book your berth.
*Pictures with many thanks to Prolink.